2006 Marlow Land Use Study

In 2006, Jason Little, MBA, Ed.D. of Marlow, Professor of Marketing at Franklin Pierce College, conducted a "Marlow Land Use Study". It was presented by the Franklin Pierce Small Business Advisory Group to the Town of Marlow on May 2, 2006. With the upcoming Master Plan Visioning Meetings, this is a helpful document to review to remember the work we did then.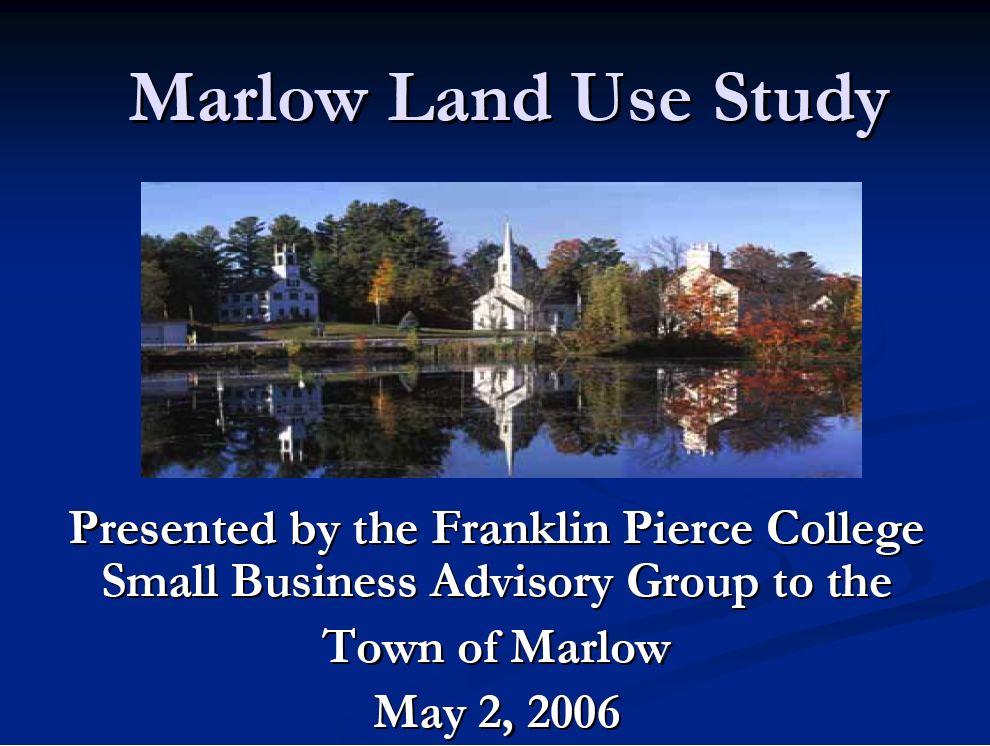 What Is The Master Plan Process?

The Master Plan Committee of volunteers is gathering input from as many citizens of Marlow as we can in order to write a new Master Plan for the town. This is a state requirement; every ten years each town is to come up with a statement of where it is now, and where it would like to be in the next ten years. This vision has to do with every aspect of town life, from roads, to schools, to businesses, recreation, land use, safety, etc. etc. It will become a document that will guide our Planning Commission, and our Selectmen going forward, and is a requirement for any grant we may wish to apply for as a town.
Our task is to condense the general feeling of the residents into one broad statement that will represent the majority feeling of the residents of Marlow, and to take each area of town life and describe "where we are" and "where we would like to be." The final report will not necessarily represent the opinions of the Master Plan Committee, but of the residents of Marlow who take the time to come out to our meetings and share!!!
There will be meetings with every stakeholder group in town during the month of September and into early October: all civic organizations, the church, the school, the town officers and selectmen, businesses should be contacted for a meeting time--- and then two open forum meetings will be held to present what we have found thus far and to further discuss and distill the town feelings. The final report should be ready by late January.
2012 Master Plan Visioning Meetings


The Master Plan Visioning Meetings were held Sunday, October 28, 1:00pm

at the Odd Fellows Hall

and

Thursday, November 8, 7:00 pm at Perkins School. Everyone who attended one of these meetings had the opportunity to give input on where we would like to see Marlow growing and changing over the next 10 years.


In each meeting there was a brief overview of statistical information about the last 10 years of Marlow growth, and then two breakout sessions, where small groups listed on paper their ideas for Marlow's future.

We were then able to see the entire list of suggestions for Marlow's future together, and noted similarities and differences.


The gist of all this input was used to design a short questionnaire on the future of Marlow that went out in the tax bills in December to all taxpayers of Marlow.

All this feedback will shape the final draft of the Master Plan, which should be available for public review

by the end of January/beginning of February.
Survey Results

Click on the categories below to see the suggestions returned via the Master Plan Survey and those raised at the October 28 Master Plan meeting.