Marlow Historical Society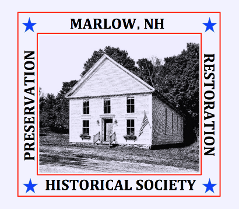 The Marlow Historical Society is a registered 501(c)3 non-profit organization with the State of New Hampshire, and as a Charitable Trust with the NH State Attorney General's Office. Your tax deductible donation will help restore and preserve Marlow's historic buildings and collect and share Marlow's historic materials for generations to come. Online credit card donations are protected through encrypted SSL security.
Marlow Historical Society Privacy Policy:
The Marlow Historical Society will not sell, trade or share a donor's personal information with anyone else, nor send donor mailings on behalf of other organizations. We will only share personal information if a donor has given us specific permission to do so.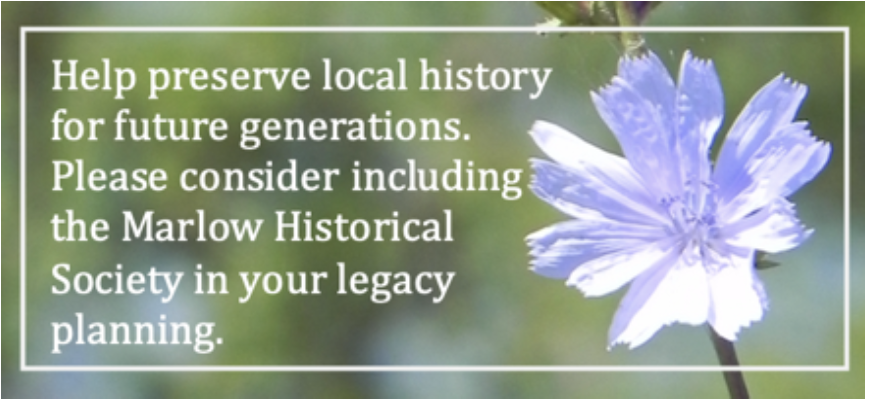 December 2022
The Marlow Historical Society was established on May 18, 1976. Its first officers were Allan W. Plumb, Margery G. Davis, Audrey M. Benson, Marguerite A. Rhoades, and Beatrice E. Andrews.
Officers elected in 2022 are President (vacant); Vice-President (vacant); Pat Strickland, Treasurer; and Patty Little, Secretary. Our directors: Sharon Spalluto, Gary Levesque, and Sharon Davis.
The mission of the society is to illuminate and preserve Marlow history. We own two historic structures: Murray Hall (formerly the Excelsior Grange) on Forest Road, and the Hearse House on Church Street.
After many years of fund raising and restoration work, our Murray Hall museum finally opened to the public on July 1, 2018. Hours are 10:00 am to noon, on the third Sunday of the month, from May to October. To enhance our collection we feature special temporary exhibits. In 2018, for example, we displayed an outstanding array of Odd Fellows paraphernalia on loan from Marlow Forest Lodge #69. A second exhibit: "Marlow Voices from the Past", created by Ed Thomas, featured vintage Marlow post cards with wistful messages from long ago.
We have two impressive items in our museum: the 19th century winter and summer hearses which were previously stored in the Hearse House. We are in the process of restoring the winter hearse.
The Historical Society has 75 members. Many of them live in other states, and some are descendants of old Marlow families. Membership dues and donations are our main source of income, and membership categories are: Student (full time) or Senior Citizen $7; Individual $15; Family $25; Sustaining $100; Lifetime $250; and Benefactor $1,000.
We encourage members to attend our board meetings (second Tuesday of the month) and to get involved in the work of the society: chairing committees, hosting at the museum, doing research, writing newsletter articles, recruiting more members, and in so many other ways.
Historical Society merchandise for sale includes: Marlow History books, note cards, and our book of Marlow poetry from the time of the settlers to the present day, entitled Marlow by Heart. Contact any one of the board members if you would like to purchase something.
We publish three newsletters a year: Winter, Spring/Summer, and Fall. They are distributed to our members and are posted to this website. Copies are also available at the town library and town office.
The Marlow NH Historical Society, Inc. is registered as a non-profit 501c Corporation with the State of New Hampshire, and as a Charitable Trust with the NH State Attorney General's Office.
Meetings
Board meets at Murray Hall at 6:30 pm second Tuesday of the month May to October.
Meetings are open to the public.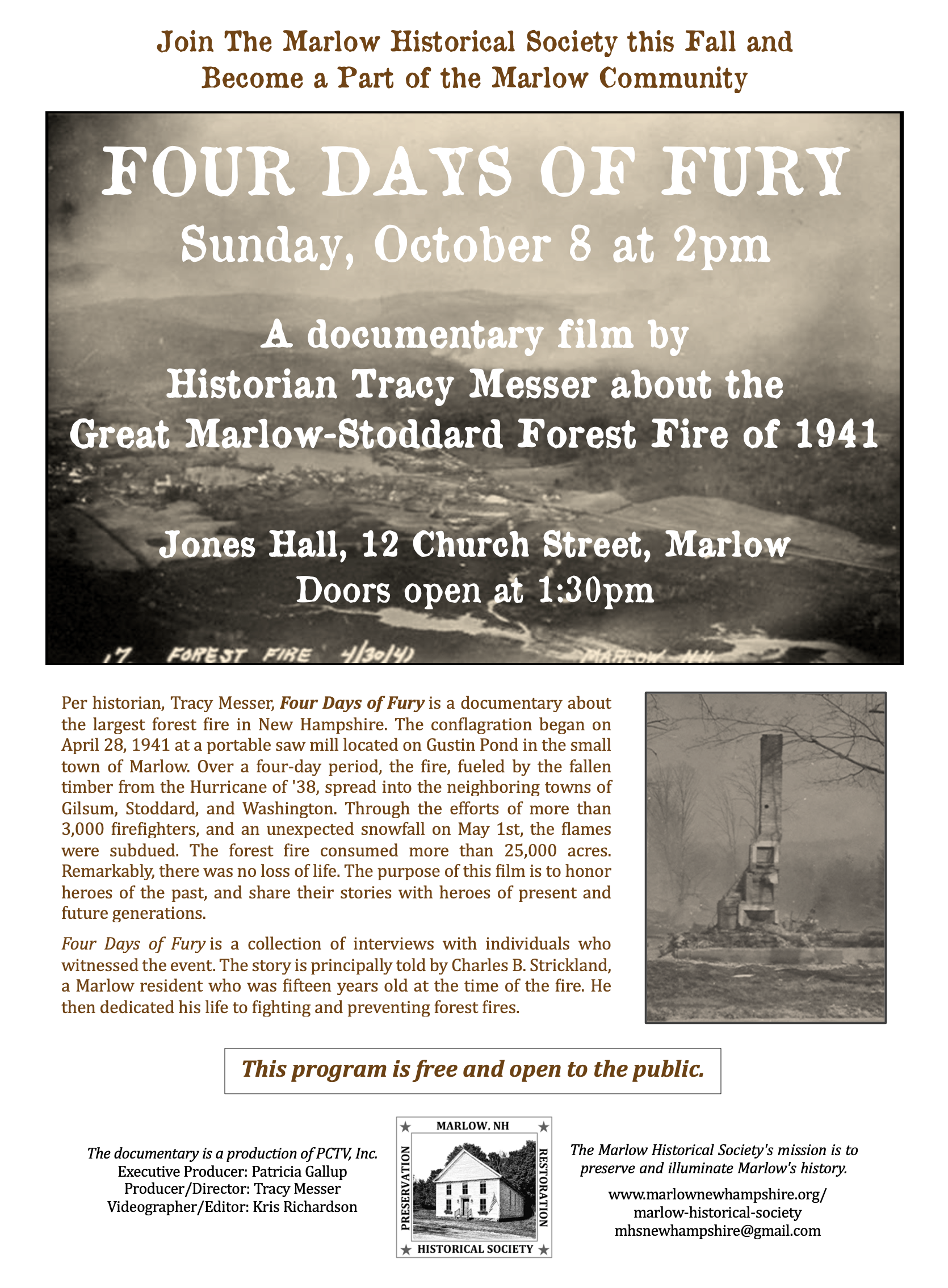 Notice to the Public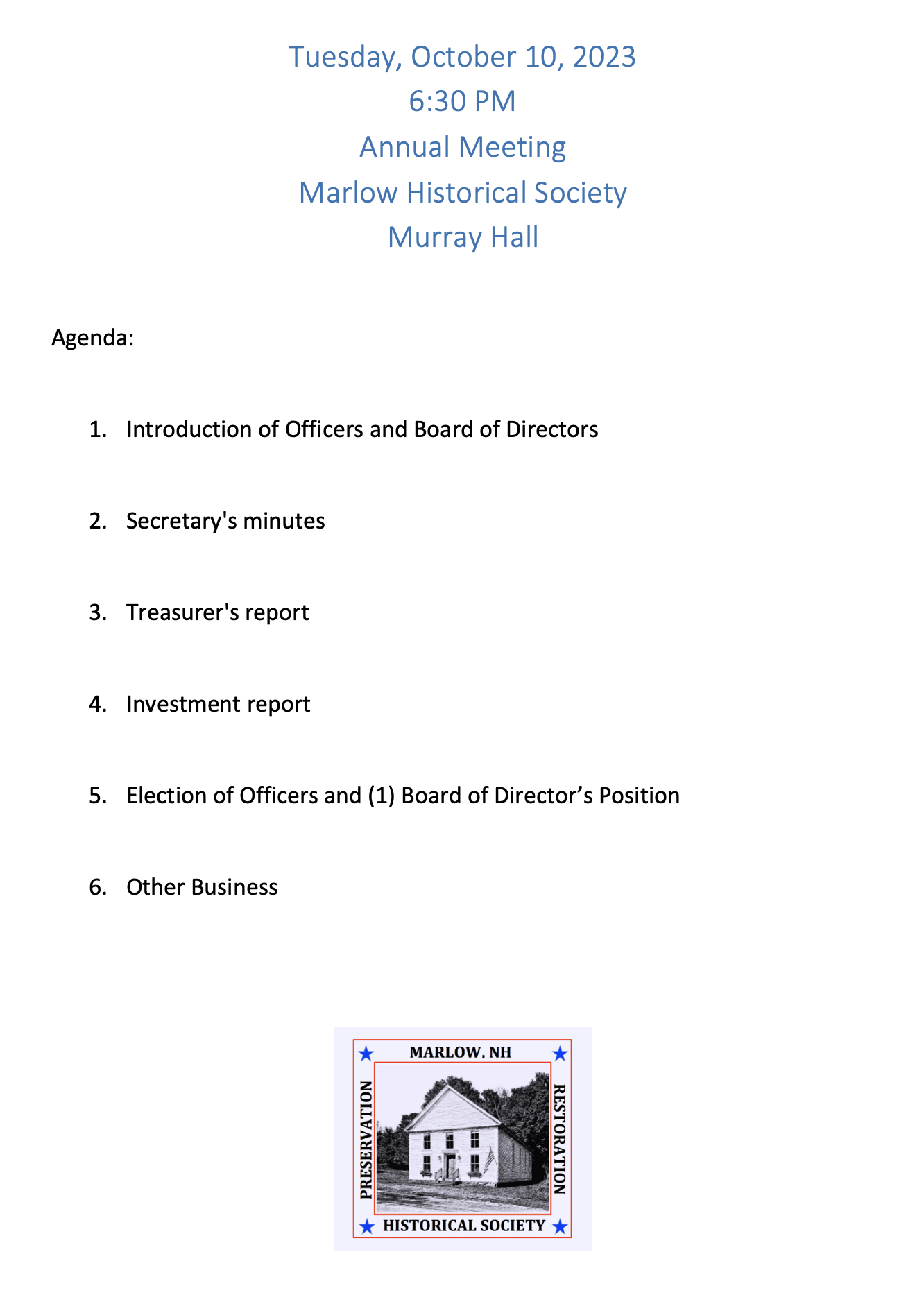 The Marlow Historical Society Museum Open for the Season
From June to October the museum will open on the third Sunday of the month, from 10am to noon
144 Forest Rd, Marlow, NH 03456 - Directions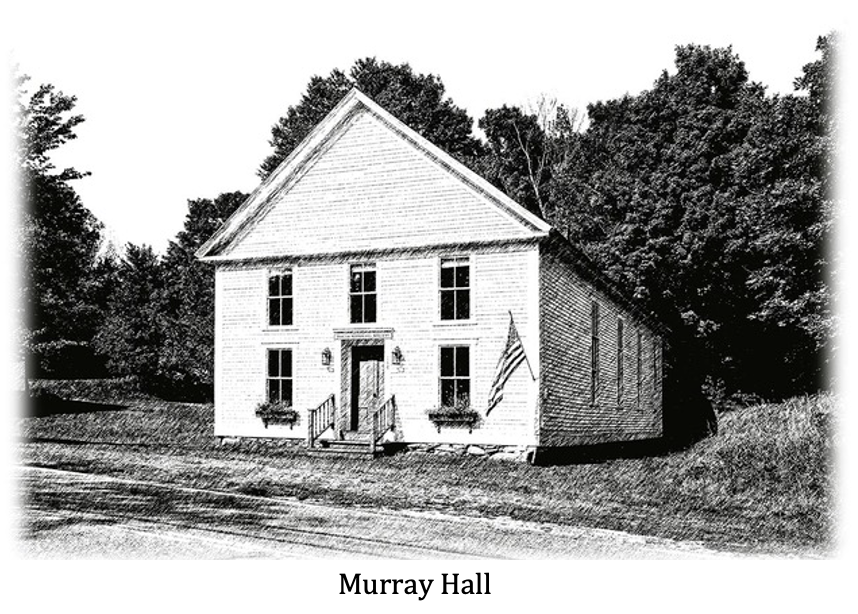 2nd Printing Now Available!

Civil War Journal of Corp. Ezra G. Huntley, Co. A, 18th Regt. N.H.V., Marlow, NH
From the Marlow Historical Society: We are thrilled and proud to inform all our members and friends that our latest publication, the transcription of Corporal Ezra George Huntley's Civil War Journal, is now available for purchase. A collaborative undertaking, it is the culmination of many months of meticulous, painstaking work, and it is one of the Marlow Historical Society's most significant and scholarly achievements. The journal was transcribed by Maria M. Baril, Chuck Mosher, and Stephanie Tickner. The foreword was written by historian Tracy Messer. Stephanie Tickner designed and edited the book.
Ezra George Huntley, a 39 year old Marlow family man who served in the 18th Regiment N.H.V., kept a faithful diary from September 2, 1864 to June 17, 1865. The 226 pages, originally written in often hard-to-decipher cursive, describe historical events and his own personal journey. It is so compelling that you just can't put the book down.
This project is in keeping with the Marlow Historical Society's mission to preserve and illuminate Marlow history, and its historic value is incalculable.
The books are available for purchase for $15 for local pickup, or $23 with shipping and handling. Sales support our ongoing efforts and our mission. You may request a book by emailing mhsnewhampshire@gmail.com or order online by choosing a purchase option below.
You can read our article about the journal in the Fall 2022 MHS newsletter.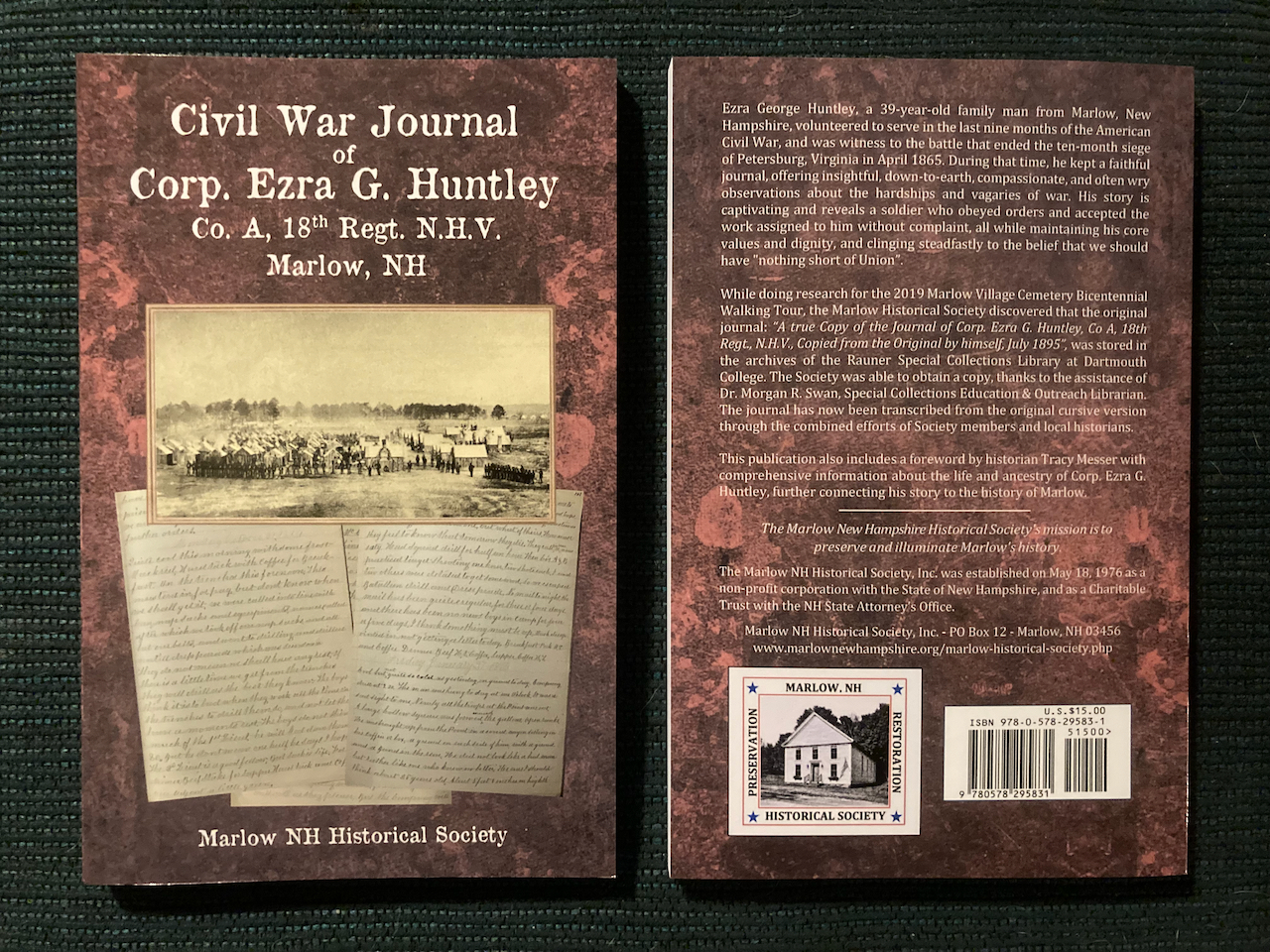 The Fire of 1916; Sometimes History Finds Us - The Britton family; The history of the Marlow Fire Department from 1934-1947; Odd Fellows and the Adopt a Highway program; The Marlow Improvement Society; The Court of Common Pleas; and more. Click here to read the full newsletter.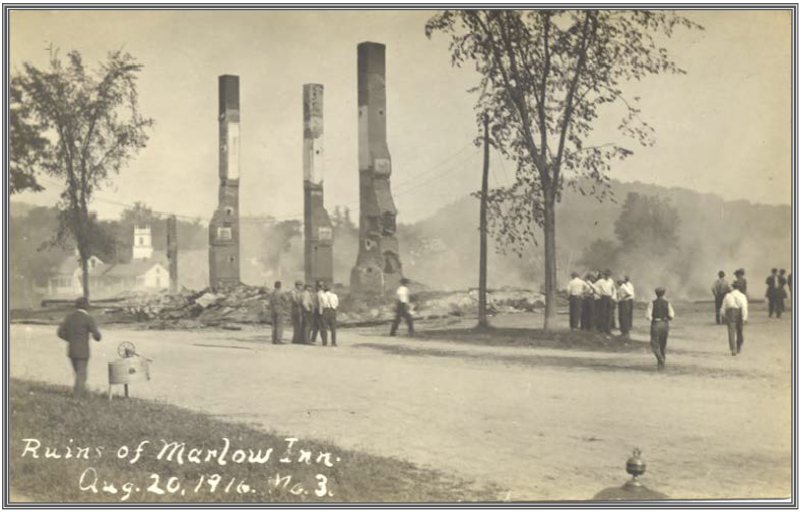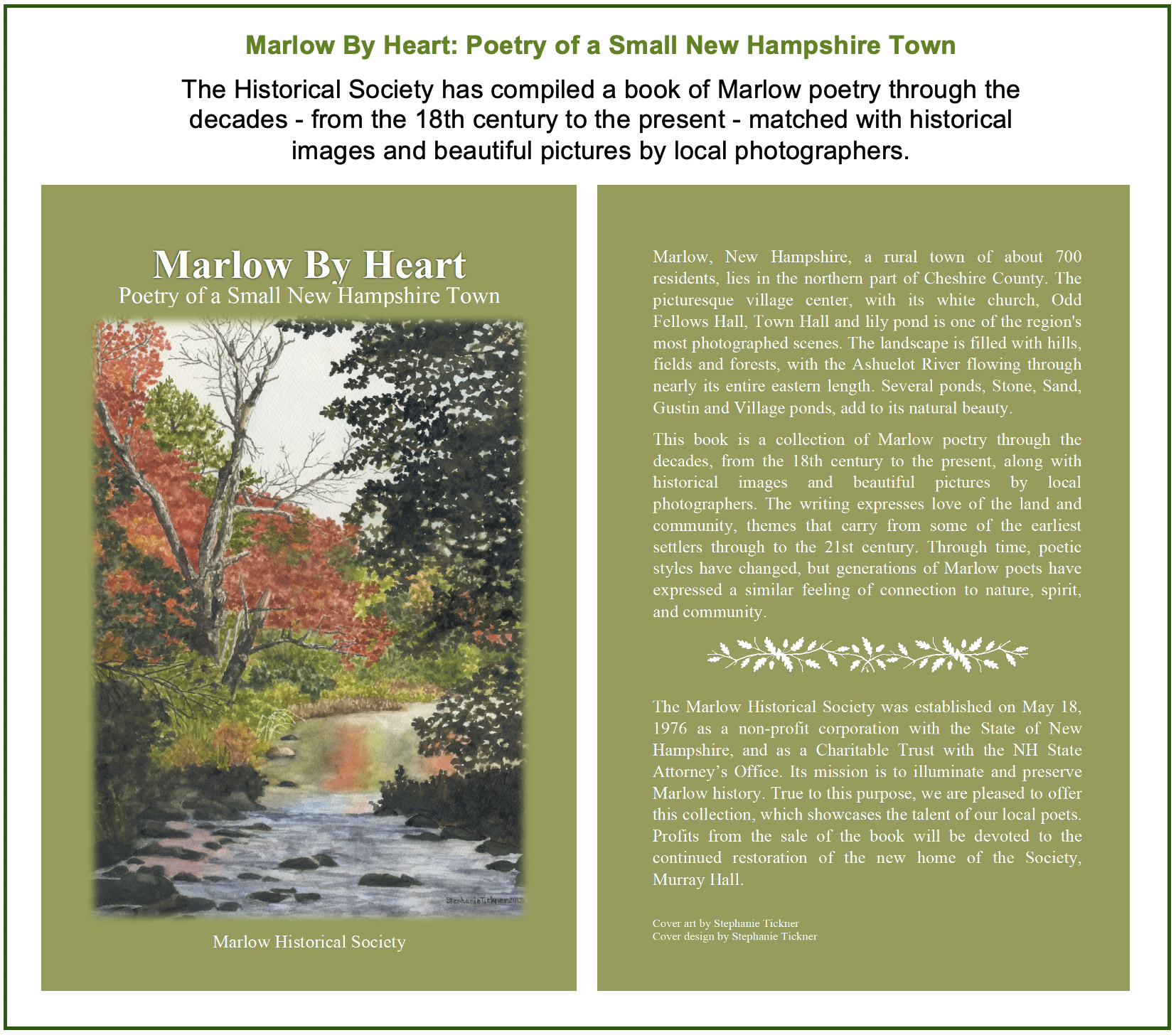 Looking for gift idea? This Keene Sentinel article about the historical society's book of poems "Marlow by Heart" might help you decide this was just what you were looking for. The books are $15.00. Contact the Marlow Historical Society at PO Box 12, Marlow, NH 03456, Maria Baril at 603-446-2292 or mhsnewhampshire@gmail.com to purchase one.
-----------------------
"Marlow's book of poems an ode to its history"
Posted: November 20, 2016 in The Keene Sentinel
by Steve Gilbert
Sifting through the town's rich historical archives, members of the Marlow Historical Society occasionally come across homegrown poems, hymns and lyrics. They are snapshots of history, scattered in the troves, spread through time. Thus, Maria Baril, president of the historical society, woke with clarity and an idea at 3 a.m. one day in late September: Why not arrange the town's history in a book of poems, as composed by Marlow's own residents, past and present?" Click here to read more...
Marlow History by Elgin Jones and Marlow Historical Society Newsletter Collection 2012-2019
There's always so much to learn about Marlow history. The Marlow History book by Elgin Jones, and the newly published Marlow Historical Society Newsletter Collection 2012-2019 contain all kinds of interesting information and stories about our beautiful town.
The Marlow History is available for $25 and the newsletter collection is $15 and are available by calling Maria Baril at 603-446-2292 or emailing mhsnewhampshire@gmail.com.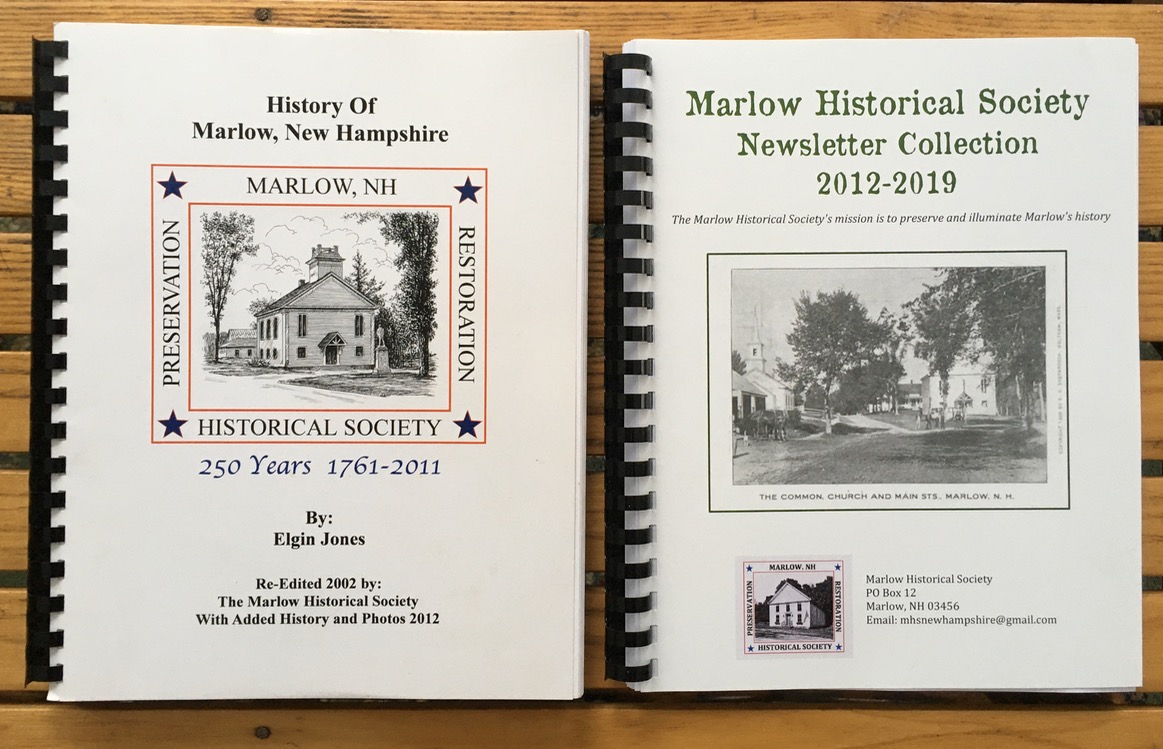 Marlow Historical Society Greeting Cards Available

These sketches were created by Randy Plotts and come in sets of 10 cards with envelopes for $10 per set
(5 winter and 5 summer scenes).
Available by calling Maria Baril at 603-446-2292 or emailing at or maria@barils.com.