Odd Fellows
PO Box 269, 5 Church Street, Marlow, NH 03456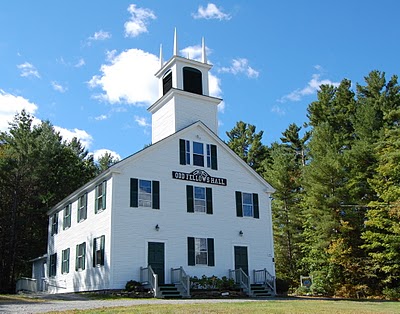 HISTORY OF ODD FELLOWSHIP
In 17th century England, it was odd to find a group of members organized for the purpose of giving aid to those in need and in pursuing projects for the benefit of all mankind. Those who belonged to such an organization were called "Odd Fellows."

The Independent Order of Odd Fellows was founded on the North American continent in Baltimore, Maryland at the Seven Stars Tavern on April 26, 1819 by Thomas Wildey and four members of the Order in England. Washington Lodge No. 1 received its charter from the Manchester Unity of Odd Fellows in England.


WHAT IS ODD FELLOWSHIP?
A simple explanation would be: Odd Fellowship is a Fraternal Organization, religious in principle, based on the Fatherhood of God and the Brotherhood of Man and the eternal life of the soul. It does charitable work on various projects in the community. Through its teachings and ceremonies, it seeks to elevate the character of man, and thereby make this world a better place in which to live. It should be clear that Odd Fellowship is not a religion. Odd Fellowship is only religious in the extent that no man or woman may become an Odd Fellow or Rebekah unless he or she is faithful to God in the religion of his or her choice, loyal to his or her country, and agrees to obey the laws of the land.
OUR BASIC CREED

Genuine Friendship, which hears all things, believes all things, hopes all things, endures all things, is the first step toward progress and personal enrichment, and the teachings of Temperence, Prudence and Justice.

Love is the basis for all life's ambitions, service to humanity, and more family oriented.

Truth, the imperial virtue, promotes economic stability, equality under law, freedom of enterprise, the highest of ethical standards, and lasting peace, the ultimate goal of fraternity.

Universal Brotherhood of Man under Fatherhood of God is imperative to the survival of the world, and can be accomplished only through the practice of fellowship and understanding among all peoples and nations.
MOTTO
"Friendship, Love and Truth"

OBJECTIVE

"To Improve and Elevate the Character of Man"

In 1841, the South Marlow Academy Association, led by Reverend Amos Tenney, was formed to raise money to build a permanent home for their school. On June 3rd of that year the group purchased a ten rods by ten rods square tract of land on a knoll overlooking the village pond. Soon afterwards, they began construction on the two-story white-clapboard structure which still stands there today. Although the identity of the architect and builder are uncertain, we do know that the Academy building was intentionally designed with two front doors to provide separate entrances for the male and female students.

Not long after the new Academy was built, the "Tontine" was moved next door for use as a dormitory. (Previously, the Tontine was used as a schoolhouse, and was located on the east side of the river, nearly opposite the dam.) From 1864-1888, it served as the home of Luman Smith, a Marlow blacksmith. Around 1845, the Methodist Church and Jones Hall were removed from Marlow Hill and placed nearby the Academy, forming the center of Marlow village.

For the first fifteen years, the school building was owned by the South Marlow Academy Association, a group of Marlow citizens connected with the Methodist conference. The Academy's success varied with the ability of the principal, and reached its peak in the early 1850's. On December 1, 1857 Josiah L. D. Otis, an enthusiastic spiritualist, purchased the building, intending to establish a Normal school. This being an unsuccessful venture, on June 12, 1858, he sold the building to Baptists connected with the church in Acworth who used the building as a house of worship Sunday and a schoolhouse during the week. On April 8, 1871 the newly organized Marlow Academy Association acquired the building and reopened the school. The Marlow Academy finally closed in 1889, although an alumni association, established in August 1901, perpetuated its memory for years afterwards.

Since its formation on November 13, 1883, the Forest Lodge # 69, I.0.0.F. rented space in the school for its fraternal gatherings. The Odd Fellows officially purchased the Academy building on September 5, 1891 for the sum of $600. As of 1901, the old-fashioned student benches made for two were still in place downstairs. Subsequently, both the upper and lower rooms were refitted for lodge purposes. In 1903, the Odd Fellows acquired the adjoining seven-acre "Tontine" property from the heirs of Ezekial Pierce and Bethuel Farley and by the August had torn down the dilapidated building. For one hundred years, the Forest Lodge has used the old Marlow Academy building for their meetings and, occasionally, for other municipal functions. Episcopal Church services were conducted here for a short period of time during 1989. Forest Lodge # 69 has donated a tract of land behind the building for a park dedicated to the memory of Abbie Werner Patria. Many brothers have given their time and energy to help clear the park.

Please check the Community Calendar for exact dates. (We need to raise money for Lodge maintenance and to perform local charitable acts.)

Examples of Charitable Acts: We try to help those who need help; Volunteer to drive to help Marlow Residents who we realize need help, such as to get to appointments, shopping, etc.., who for one reason or another can't drive themselves.

Monthly Bingo Game licensed by the NH Charitable Games.
Breakfast on the Third Sunday of each month from 8am until 11 for $9. Children under 12 free.
We participate annually in Toy for Tots.
We currently have 22 members with 12 active members. New members or volunteers are welcome to assist us.

Meetings are held for members only on the first and third Tuesday of the Month, 6:30pm, Odd Fellows Hall

The Odd Fellows Hall and its kitchen are available for use by the community and the public in general. A rental donation is requested to cover both maintenance and utility costs, and to help fund our ongoing charitable efforts within this community. Hall usage application and insurance coverage requirement forms are available by contacting NG Tom Cassar at 603-446-7600 for further information and scheduling.

Officers for 2023 - 2024
Noble Grand - Tom Cassar

Vice Grand - Sandy Pierre
Secretary - Ken Dassau

Treasurer - Rik Lammers
Odd Fellows Third Sunday Breakfast Buffet
8:00 - 11:00am - Check Community Calendar for dates

5 Church Street

Only $9 for adults with kids under 12 free


Marlow Odd Fellows Lodge #69 is pleased to offer delicious Third Sunday breakfasts each month. After their successful reintroduction, Corned Beef Hash and Biscuits and Gravy are officially permanent menu items!
The menu: Scrambled Eggs, Plain and Blueberry Pancakes with real local maple syrup, Bacon, Sausage, Home Fries, Biscuits and Gravy, Corned Beef Hash, Baked Beans, Juice and Coffee or Tea. All for $9 with kids under 12 free.
For those who miss the breakfast sandwiches, our take out still offers the breakfast sandwich options including our famous "Frazier"!
If you want to call ahead for takeout please call 603-313-3344 any time after 7:30am on Sunday.
If you are interested in helping out in the future or joining the Odd Fellows please let us know when you visit.