Marlow United Methodist Church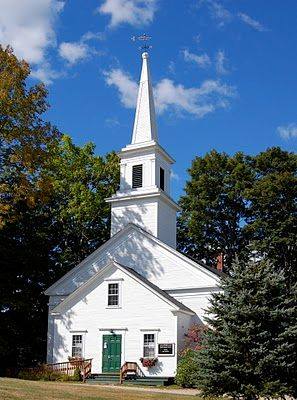 Sunday Worship - 9:30 am
11 Church St, Marlow, NH 03456
History


The Methodist Church (built in 1829) was a few rods west of the Old Meeting House (built in 1792) on Marlow Hill. In 1845 the Methodist Church and the Old Meeting House were moved down to the "plains" or Village. The Methodist Church was enlarged in 1866 and the Old Meeting House eventually became Jones Hall and was remodeled in 1881. Sunday morning services used to begin at 8:45 am.
Contacts

Todd Layton, Pastor - 770-605-6669 -
MUMCNH@gmail.com
Sharon Davis, Lay Leader - 603-446-7064 -
d-davis@earthlink.net
Todd Layton, Pastor
Welcome to Marlow United Methodist Church. We are regular people on a life journey together. I have been blessed to be appointed at Marlow UMC after serving as lay speaker in Manchester and in the south. I am a single dad who also has a job working in health care. Marlow UMC is a place for anybody who wants to find peace and love of Jesus Christ. We are a welcoming community of people who come from diverse religious backgrounds. We want you to know that you are a child of God. We would be honored to have you visit us. If we can ever do anything for you then please let us know. God's Peace.
Please note that as August 2022, our worship time has changed from 9 am to 9:30 am.
The Marlow United Methodist Church holds in-person services
and streams services on Facebook
Sunday mornings at 9:30am
Click here to go to the church Facebook page to join in.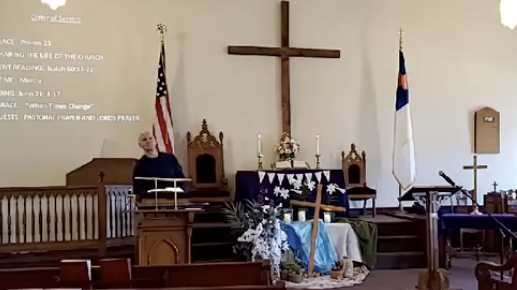 Men's Breakfast at the Chapel
Last Sunday of the Month - 8:00-9:00am
118 NH-123, Marlow
Please join us Sunday at 8:00 AM at the Chapel for men's breakfast. This is open to ALL males in Marlow. Please bring something to share for breakfast. We will have a short devotional to reflect on what God wants for men. Then we will just laugh, talk and eat good food. We will wrap up around 9:00. Please come and invite any males to come (any age).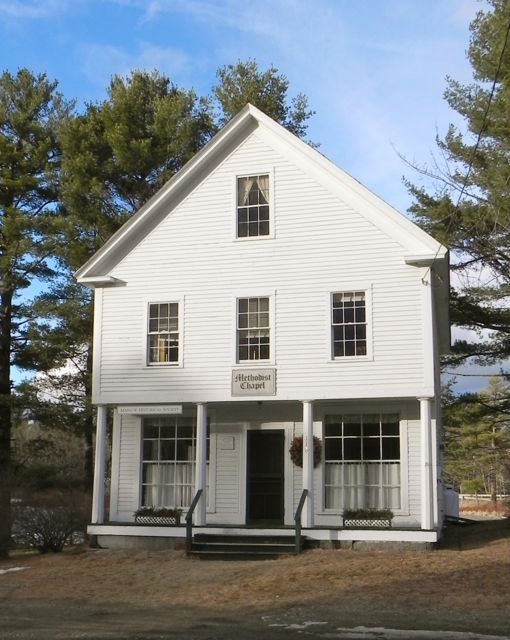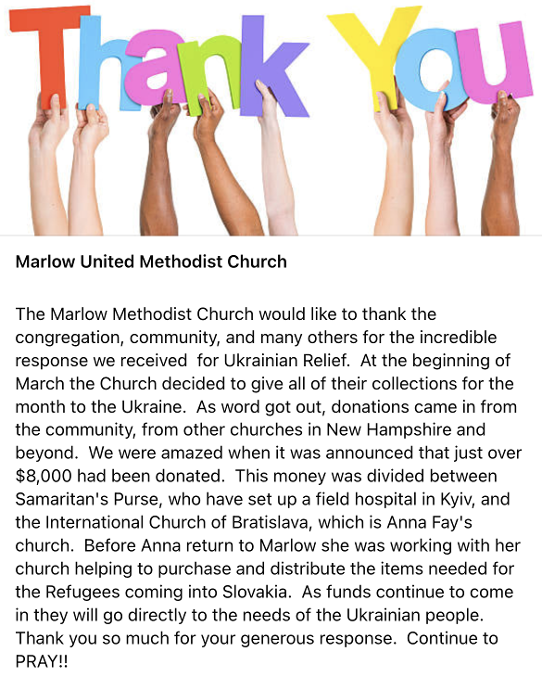 Food Pantry
Please bring your food contributions on the 3rd Sunday for the Food Pantry distribution. Food Pantry: Please remember our neighbors when you shop by choosing single-serving, easily prepared, diabetic-friendly meals to contribute to the food pantry. If you would like to give a financial donation for food, there is a jar on the table at the back of the sanctuary where you can put your offering. This money will be used to purchase needed items. If you know of anyone that would like to be added to our monthly pantry, please contact the church. Deliveries are made on the third Sunday of the month. If you can help with deliveries, please contact Marcia Levesque at 446-4383.
The Gathering Place
Please note that The Gathering Place has been discontinued during Covid. Please check back for further announcements.
We open the Chapel on Saturday mornings, from 9-11:30 as a place where neighbors can meet, have coffee and goodies, and catch up on news. This will be hosted by the church and other town organizations.