Silent Auction at J.D. Perkins School
Benefits the Marlow Historical Society and the Odd Fellows
Sunday, July 6th from 4 to 7pm
Credit cards will be accepted at the Silent Auction!

No worries if you do not have cash on hand. The Silent Auction to support the Historical Society and the Odd Fellows will accept credit card payments. Not too much longer. The Silent Auction at J.D. Perkins Schoolis less than a week awayJuly 6th from 4 to 7pmWe look forward to seeing you there!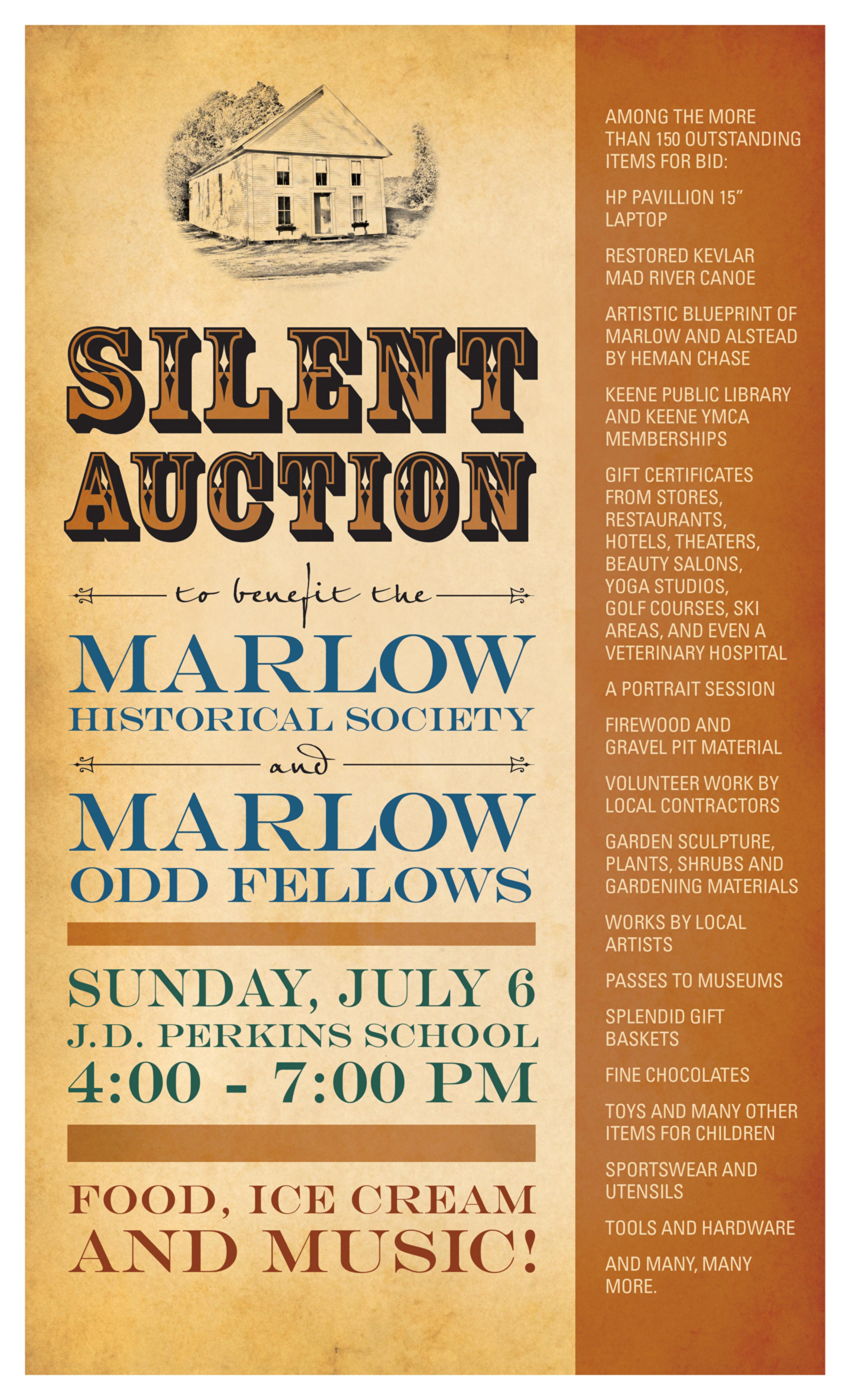 Save those pennies and dollars
We hope you show your support for our town

We have over 150 outstanding items for you to bid on including:

HP Pavillion 15" laptop computer * Restored kevlar Mad River canoe * Special donation from Savings Bank of Walpole * Keene YMCA family membership * Membership to Keene Public Library
Gift certificates from stores, restaurants, hotels, theaters, spas, beauty salons, yoga studios, golf courses, ski areas, and even a veterinary hospital!
Portrait session * Firewood * Material from gravel pit * Volunteer work by local contractors * Garden sculpture; plants, shrubs, and gardening materials * Works by local artists * Passes to museums * Splendid gift baskets * Fine chocolates
Toys and many other items for children

Sportswear

Tools and hardware

.....and many, many, MANY more

June 25, 2014
Even more items have been added to the Silent Auction!
1958 Madame Alexander doll in pristine condition
Peony tree planted in beautiful terra-cotta planter
$100 certificates to Nicola's and Luca's
Collection of early 20th century woodworking tools
Documentary disk sets from Florentine Films, autographed by Ken Burns
Metal garden sculpture by James Taylor of Alstead

More splendid baskets, including Baudelaire soaps collection,
and a huge "chocolate lover" basket from Ingenuity Store.
May 30, 2014
More on our BIG Silent Auction July 6th at J.D. Perkins School
to benefit the Historical Society and the Odd Fellows here in town!

We've collected more great items, including a painting of "Leza" the sheep by David Howell of the Walpole Artisans Coop, a deluxe collection of items from King Arthur Flour Company, an original blueprint of a survey of Alstead and Marlow done by Heman Chase, and a chance to play at the Angus Lea, Newport, or Bretwood Golf Courses.
You just can't lose!

Also, we will feature delicious ice cream, music by Tristan Smith, and barbecue food for sale to keep you well fed. Stay tuned for more items, and watch for the advertisements in all the local papers.
Tell your friends!