Historical Society Photos - Alice Jane Britton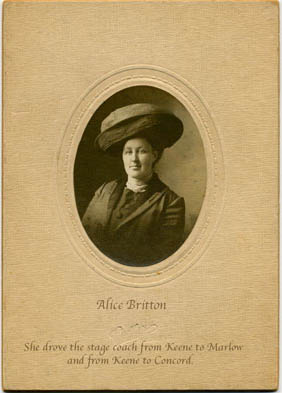 Her name is Alice Jane Britton (or Alison Jeanette Britton).

"She was born in Keene, N. H. on Dec. 21, 1889 of Charles F. and Jeanette (Wilson) Britton.

At age eleven she was living with her parents in Marlow, N.H. Later she took over her father's position as stage coach driver.

She is known to have boarded at the Parker home in Marlow. Her obituary calls her a life-long resident of Marlow and notes she was a school bus driver for many years and a mail carrier for Marlow. She died, following a long illness, at age 69 in 1959."