Marlow Historical Society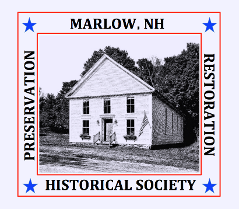 PO Box 12
Marlow, NH 03456
Membership Chairman: Maria Baril, 603-446-2292
The Marlow Historical Society is a registered 501(c)3 non-profit organization with the State of New Hampshire, and as a Charitable Trust with the NH State Attorney General's Office. Your tax deductible donation will help restore and preserve Marlow's historic buildings and collect and share Marlow's historic materials for generations to come. Online credit card donations are protected through encrypted SSL security.
Marlow Historical Society Privacy Policy:
The Marlow Historical Society will not sell, trade or share a donor's personal information with anyone else, nor send donor mailings on behalf of other organizations. We will only share personal information if a donor has given us specific permission to do so.
A Message from the Historical Society
March 29, 2020
It is impossible to plan ahead during these uncertain times. We would normally be scheduling events and programs, and looking forward to opening our museum for the season. We must, however, follow the recommended guidelines concerning COVID-19 and are therefore putting all gatherings on hold. The museum will remain closed until further notice.
Many town activities such as the Odd Fellows Bingo and Sunday breakfasts, library programs, Friendly Meals, and the Gathering Place have also been temporarily cancelled. The Marlow United Methodist Church is streaming their Sunday morning worship.
Our Spring newsletter, which is already in the works, will be emailed. At a later date, when it is safe to do so, we will send you a hard copy, which many of you prefer.
We are exploring ways to work together online to initiate collaborative research such as the histories of the Marlow Village Cemetery and the Marlow Methodist Church.
We send our most affectionate regards to you and your families, and trust that you will stay safe and healthy.
Fall 2019
The Marlow Historical Society was established on May 18, 1976. Its first officers were Allan W. Plumb, Margery G. Davis, Audrey M. Benson, Marguerite A. Rhoades, and Beatrice E. Andrews.
Officers elected in 2019 are Maria M. Baril, President; Joanne Thomas, Vice-President; Pat Strickland, Treasurer; and Patty Little, Secretary. The three directors are Rhonda Lake, Sharon Spalluto and Ed Thomas.
The mission of the society is to illuminate and preserve Marlow history. We own two historic structures: Murray Hall (formerly the Excelsior Grange) on Forest Road, and the Hearse House on Church Street.
After many years of fund raising and restoration work, our Murray Hall museum finally opened to the public on July 1, 2018. Hours are 10:00am to noon, on the third Sunday of the month, from May to October. To enhance our collection we feature special temporary exhibits. In 2018, for example, we displayed an outstanding array of Odd Fellows paraphernalia on loan from Marlow Forest Lodge #69. A second exhibit: "Marlow Voices from the Past", created by Ed Thomas, featured vintage Marlow post cards with wistful messages from long ago.
The Historical Society has 108 members. Many of them live in other states, and some are descendants of old Marlow families. Membership dues and donations are our main source of income, and membership categories are: Student (full time) or Senior Citizen $7.00; Individual $15.00; Family $25.00; Sustaining $100.00; Lifetime $250.00; and Benefactor $1,000.
We encourage members to attend our board meetings (see details below) and to get involved in the work of the society: chairing committees, hosting at the museum, doing research, writing newsletter articles, recruiting more members, and in so many other ways.
We also have Historical Society merchandise for sale: tee shirts, caps, Marlow History books, note cards; and our book of Marlow poetry from the time of the settlers to the present day, entitled Marlow By Heart. Contact any one of the board members if you would like to purchase something.
We publish three newsletters a year: Winter, Spring/Summer and Fall. It is distributed to our members and is posted to this website. Copies are also available at the town library and town office.
The Marlow NH Historical Society, Inc. is registered as a non-profit 501c Corporation with the State of New Hampshire, and as a Charitable Trust with the NH State Attorney General's Office.
Meetings
Board meets at Murray Hall at 6:30 pm second Tuesday of the month.
Meetings are open to the public.
Read about Elgin Jones and the roots of Camp Takodah, Charlie Strickland's story, the last of the Downings, the story of the hearse house, and more. Click here to read the full newsletter.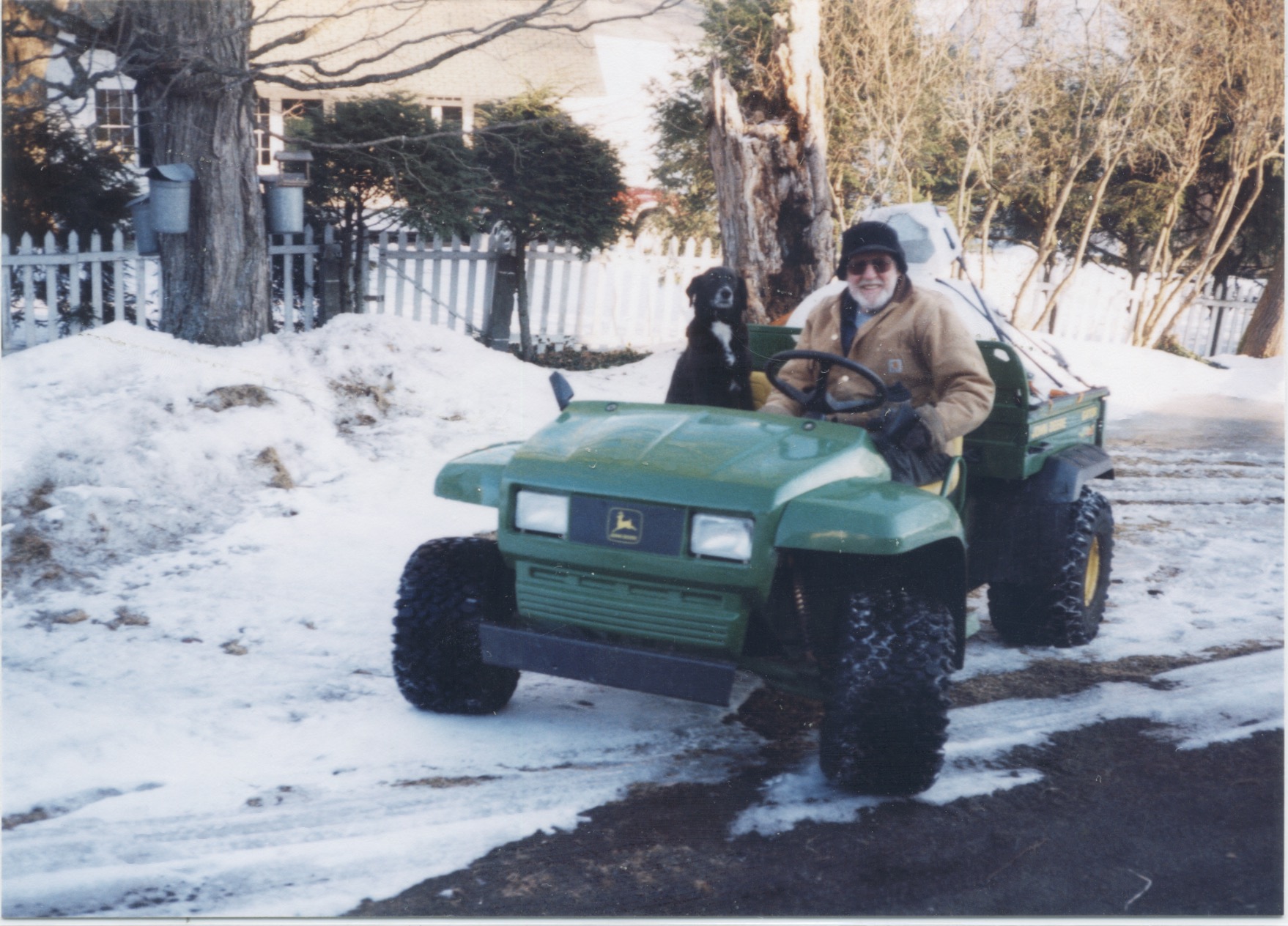 Marlow Historical Society to open new museum space to the public next month
By Meghan Foley Sentinel Staff
June 11, 2018
MARLOW - A few years ago a person could walk through the double wooden doors of Murray Hall into a cozy foyer and then cavernous, dreary hall that had been left to the passage of time.
Today, a person can enter the same historic building and be amazed by the hall's transformation into a museum showcasing the town's history. Read more...
Marlow Historical Society Vests
New for 2019!
Stay warm this season with a navy blue fleece vest, embroidered with Marlow's Giffin Elm. Vests are $28.00.
Contact the Marlow Historical Society at PO Box 12, Marlow, NH 03456, Maria Baril at 603-446-2292 or maria@barils.com to purchase.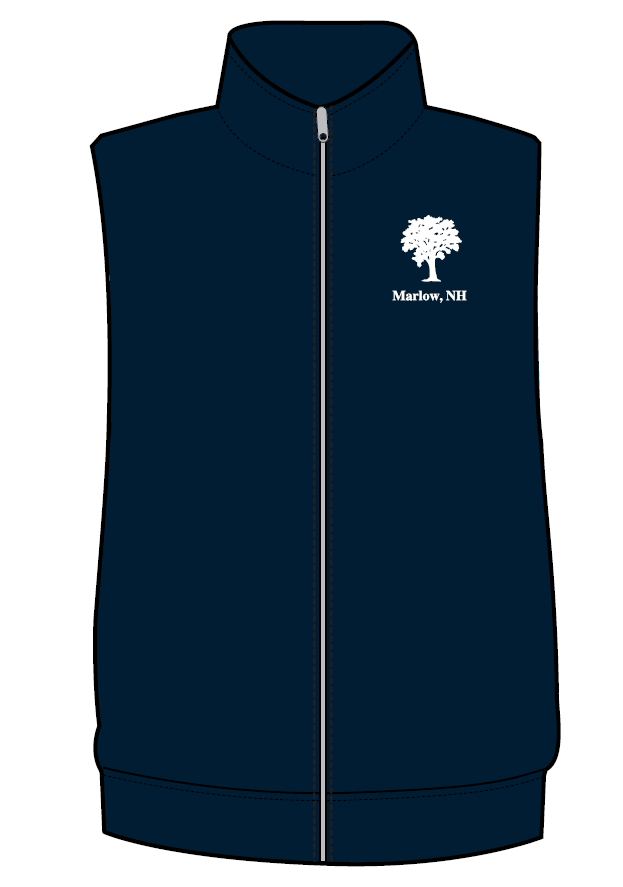 Marlow History by Elgin Jones and Marlow Historical Society Newsletter Collection 2012-2019
There's always so much to learn about Marlow history. The Marlow History book by Elgin Jones, and the newly published Marlow Historical Society Newsletter Collection 2012-2019 contain all kinds of interesting information and stories about our beautiful town.
The Marlow History is available for $25 and the newsletter collection is $15 and are available by calling Maria Baril at 603-446-2292 or emailing at or maria@barils.com.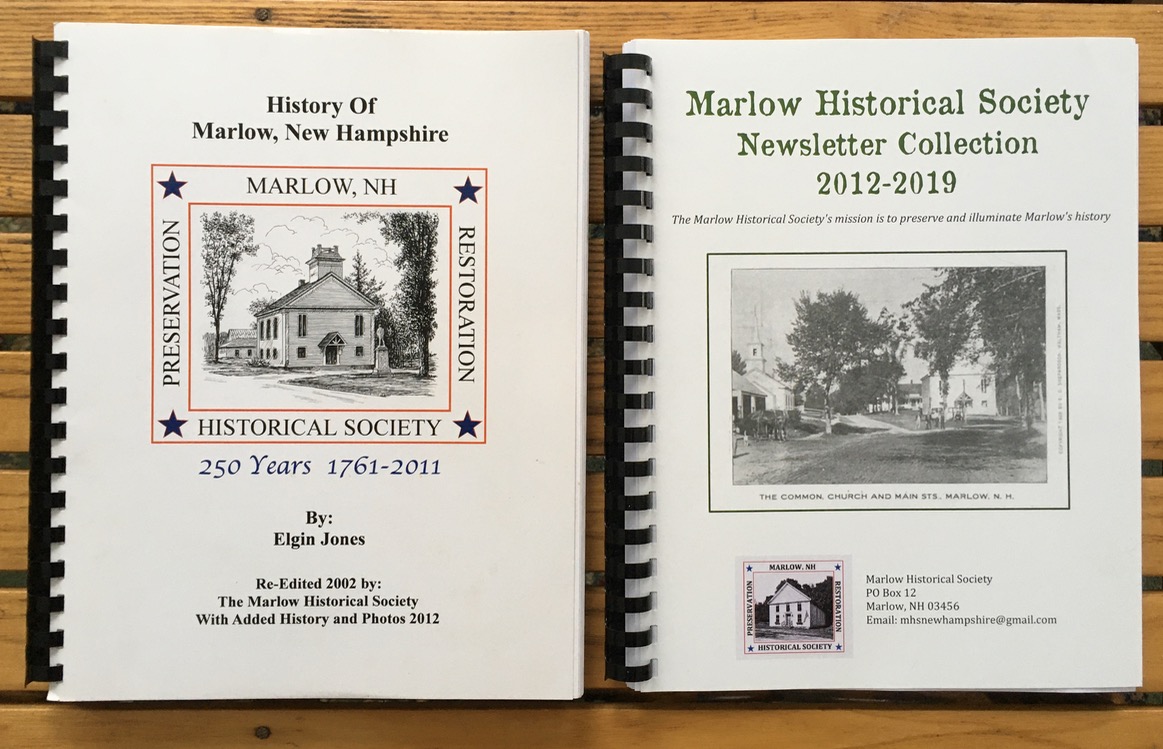 Marlow By Heart: Poetry of a Small New Hampshire Town
The Historical Society has compiled a book of Marlow poetry through the decades - from the 18th century to the present - matched with historical images and beautiful pictures by local photographers. The front cover is a watercolor by Marlow artist Stephanie Tickner, titled, "Ashuelot River from the Bridge to Cheshire Earth."
The books are $15.00. Contact the Marlow Historical Society at PO Box 12, Marlow, NH 03456, Maria Baril at 603-446-2292 or maria@barils.com to purchase one. The books are also available at the Marlow Library. Click here to see larger images...
Marlow Historical Society Greeting Cards Available

These sketches were created by Randy Plotts and come in sets of 10 cards with envelopes for $10 per set
(5 winter and 5 summer scenes).
Available by calling Maria Baril at 603-446-2292 or emailing at or maria@barils.com.