Marlow Historical Society

PO Box 12
Marlow, NH 03456
Membership Chairman: Maria Baril, 603-446-2292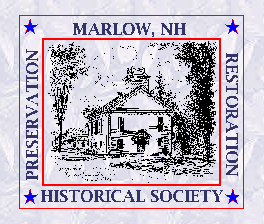 Fall 2016
The Marlow Historical Society was established on May 18, 1976. Its first officers were Allan W. Plumb, Margery G. Davis, Audrey M. Benson, Marguerite A. Rhoades, and Beatrice E. Andrews.
Officers for 2017 are Maria M. Baril, President; Joanne Thomas, Vice-President; Pat Strickland, Treasurer; and Patty Little, Secretary. The three directors are: Barry Corriveau, Linda McCracken, and Joe Baril.
The mission of the Society is to illuminate and preserve Marlow history. We own two historic structures: the Hearse House on Church Street, and Murray Hall (formerly the Excelsior Grange) on Forest Road.
Our priority for the last few years has been the restoration of Murray Hall. After having its foundation stabilized, we installed new wiring, light fixtures, and ceiling fans; as well as smoke detectors, lighted exit signs and emergency lighting. The foyer, office and staircase to the balcony were refurbished. New steps and railing grace the front of the building, and there's a handicap ramp in the back. The front and two sides of the building have been freshly painted. By the middle of 2016 the walls of the great hall had a drywall finish.

In October 2016 we embarked on an ambitious and costly project - the installation of drywall on the ceiling of the great hall. By the third week of November the work was completed, and we are justifiably proud of what has been accomplished. We hope to set up our museum in the spring of 2017, and open it to the public in the summer.

The Society publishes a quarterly newsletter, which is distributed to members and is posted to this website. Copies are also available at the town office and library.

The Marlow NH Historical Society, Inc. is registered as a non-profit 501c3 Corporation with the State of New Hampshire, and as a Charitable Trust with the NH State Attorney General's Office.
August 14, 2017
PUBLIC NOTICE
MARLOW HISTORICAL SOCIETY
Notice is hereby given that the Marlow Historical Society will hold their annual election for the Board of Directors at a meeting scheduled for Tuesday, September 19th. The Board of Directors includes a President, Vice-President, Secretary and Treasurer with one year terms and three Directors with staggered one year, two year and three year terms.
Individuals interested in running for office may either attend the meeting on September 19th or contact Maria Baril, Board President. The meeting starts at 6:30 pm and will be held in Murray Hall. Nominations will be accepted from the floor.
With the restoration of Murray Hall nearing its completion, the Board is looking forward to creating interesting displays that depict former times in Marlow. We welcome new members and encourage residents to file for the above offices.
Patricia A. Little
Secretary
New Hampshire Humanities Program
"Wit and Wisdom: Humor in 19th Century New England"
with Storyteller Jo Radner
Sunday, October 1, 3:00pm, Murray Hall
Hosted by the Marlow Historical Society
Refreshments Served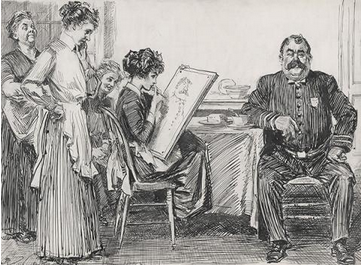 Whatever did New Englanders do on long winter evenings before cable, satellite and the internet? In the decades before and after the Civil War, our rural ancestors used to create neighborhood events to improve their minds. Community members male and female would compose and read aloud homegrown, handwritten literary "newspapers" full of keen verbal wit. Sometimes serious, sometimes sentimental but mostly very funny, these "newspapers" were common in villages across Maine, New Hampshire and Vermont and revealed the hopes, fears, humor and surprisingly daring behavior of our forebears. Jo Radner shares excerpts from her forthcoming book about hundreds of these "newspapers" and provides examples from villages in your region.
Fall 2017 Marlow Historical Society Newsletter Posted
This issue of the Marlow Historical Society Newsletter includes stories about Marlow Village Church and its steeple, memories of Vilas High School 1935-1966, tidbits from Marlow history, a Sand Pond story, and upcoming events.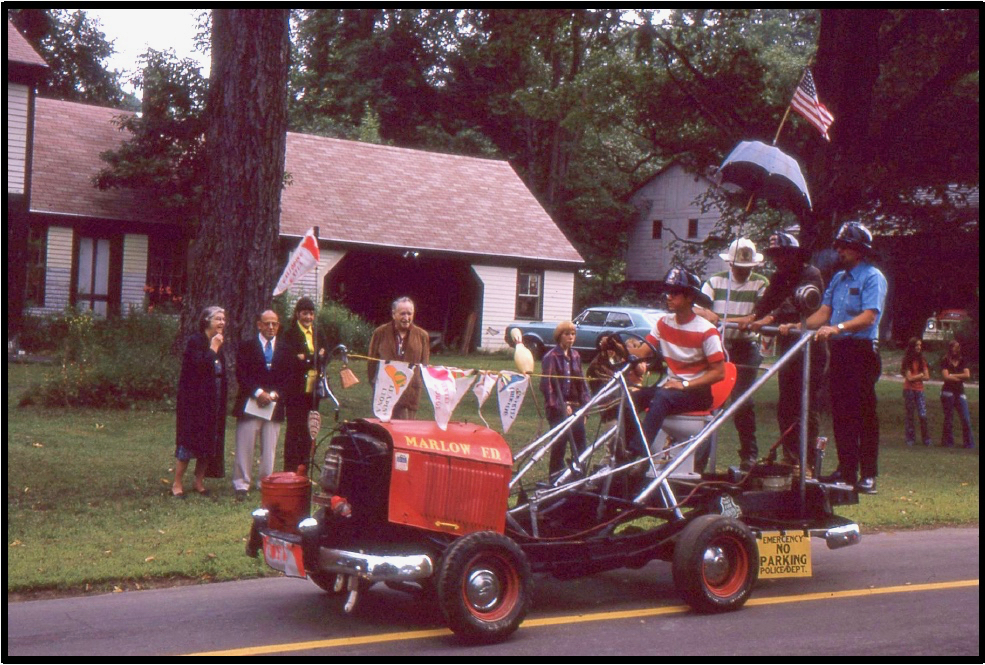 Marlow By Heart: Poetry of a Small New Hampshire Town
The Historical Society has compiled a book of Marlow poetry through the decades - from the 18th century to the present - matched with historical images and beautiful pictures by local photographers. The front cover is a watercolor by Marlow artist Stephanie Tickner, titled, "Ashuelot River from the Bridge to Cheshire Earth."
The books are $15.00. Contact the Marlow Historical Society at PO Box 12, Marlow, NH 03456, Maria Baril at 603-446-2292 or maria@barils.com to purchase one. The books are also available at the Marlow Library. Click here to see larger images...
Marlow Historical Society Greeting Cards Available

These sketches were created by Randy Plotts and come in sets of 10 cards with envelopes for $5 per set.
Available by calling Maria Baril at446-2292.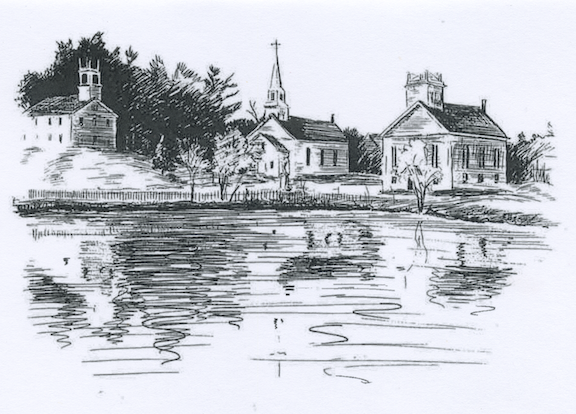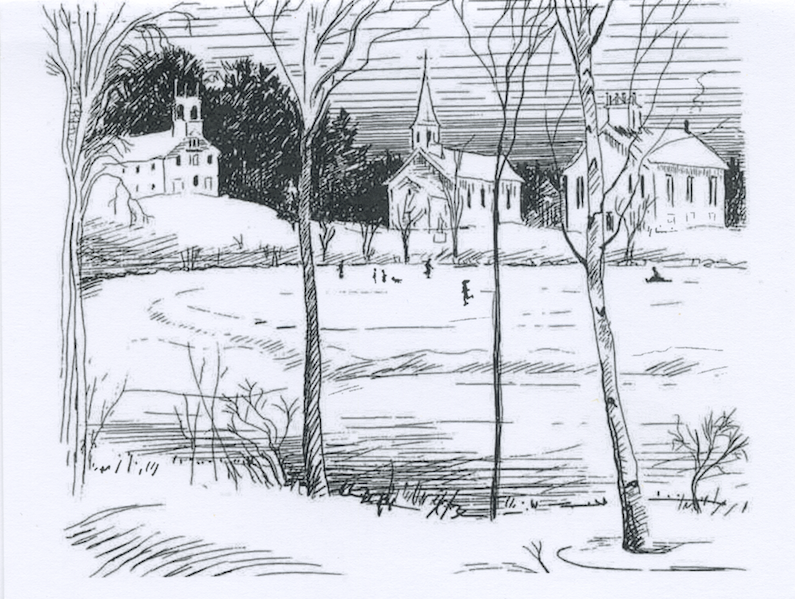 WMUR's NH Chronicle - Thursday, April 28, 2016 - The Great Marlow-Stoddard Fire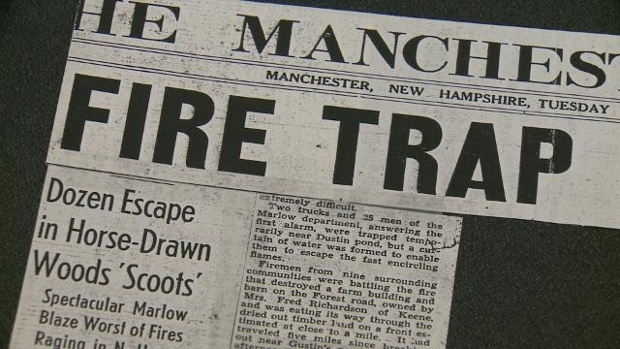 Remembering the great Marlow-Stoddard forest fire, seventy five years after it scorched four towns over four days
Renovation of Murray Hall - Marlow Historical Society 2016 Fundraiser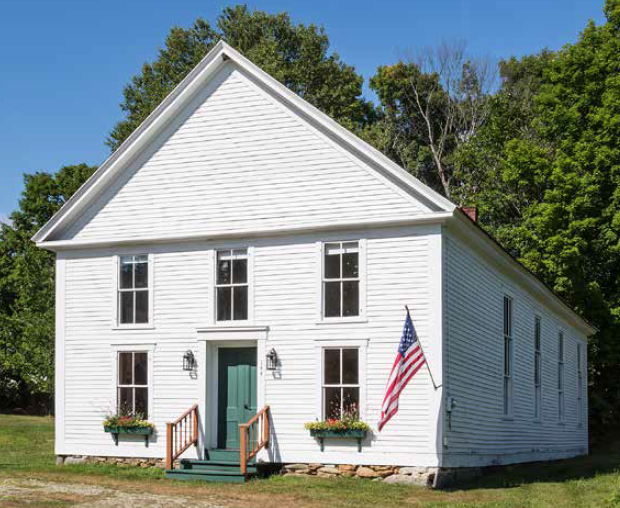 The Marlow Historical Society has owned Murray Hall, on Forest Road in Marlow NH, since 2002. Through the decades the building has been a Methodist Church, a Universalist Church, the Excelsior Grange, and finally a workshop and a storage facility for PC Connection. In 2002, Gallup & Hall conveyed the land and building to the Society, which immediately set upon its restoration. Click here to read about restoration progress and how you can help.
Posted: Monday, August 17, 2015 12:00 pm
By Meghan Foley Sentinel Staff
MARLOW - Local lore has it that sometime around the 1840s an elephant and her trainer came to town. The elephant's name was Lady Betsey, and she came all the way from Calcutta, India. But where Lady Betsey went after her rumored visit to Marlow remains a mystery including whether she left the town at all...read more...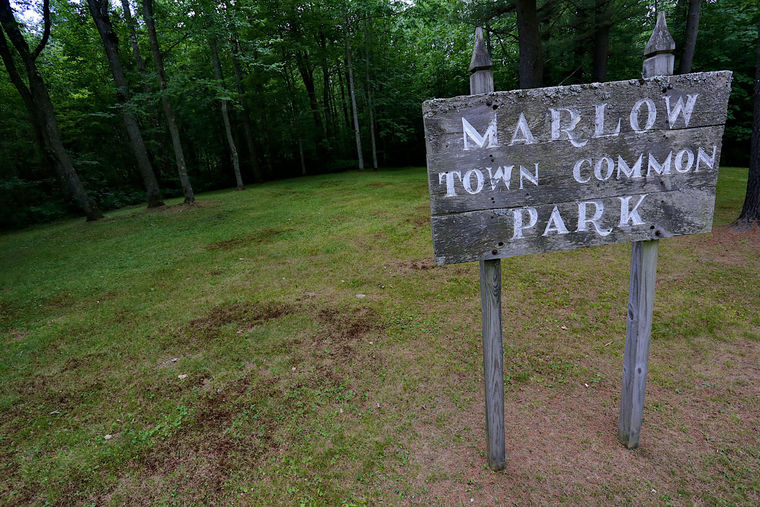 Bill Gnade / Sentinel Staff