Marlow Historical Society

PO Box 12
Marlow, NH 03456
Membership Chairman: Maria Baril, 603-446-2292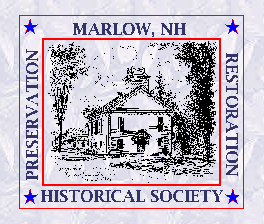 Fall 2016
The Marlow Historical Society was established on May 18, 1976. Its first officers were Allan W. Plumb, Margery G. Davis, Audrey M. Benson, Marguerite A. Rhoades, and Beatrice E. Andrews.
Officers for 2017 are Maria M. Baril, President; Joanne Thomas, Vice-President; Pat Strickland, Treasurer; and Patty Little, Secretary. The three directors are: Barry Corriveau, Linda McCracken, and Joe Baril.
The mission of the Society is to illuminate and preserve Marlow history. We own two historic structures: the Hearse House on Church Street, and Murray Hall (formerly the Excelsior Grange) on Forest Road.
Our priority for the last few years has been the restoration of Murray Hall. After having its foundation stabilized, we installed new wiring, light fixtures, and ceiling fans; as well as smoke detectors, lighted exit signs and emergency lighting. The foyer, office and staircase to the balcony were refurbished. New steps and railing grace the front of the building, and there's a handicap ramp in the back. The front and two sides of the building have been freshly painted. By the middle of 2016 the walls of the great hall had a drywall finish.

In October 2016 we embarked on an ambitious and costly project - the installation of drywall on the ceiling of the great hall. By the third week of November the work was completed, and we are justifiably proud of what has been accomplished. We hope to set up our museum in the spring of 2017, and open it to the public in the summer.

The Society publishes a quarterly newsletter, which is distributed to members and is posted to this website. Copies are also available at the town office and library.

The Marlow NH Historical Society, Inc. is registered as a non-profit 501c3 Corporation with the State of New Hampshire, and as a Charitable Trust with the NH State Attorney General's Office.
Special Event
Pop Up Museum- Celebrating Oddness!
Sunday, February 5, 2:00 - 3:00 pm
Odd Fellows Hall, Marlow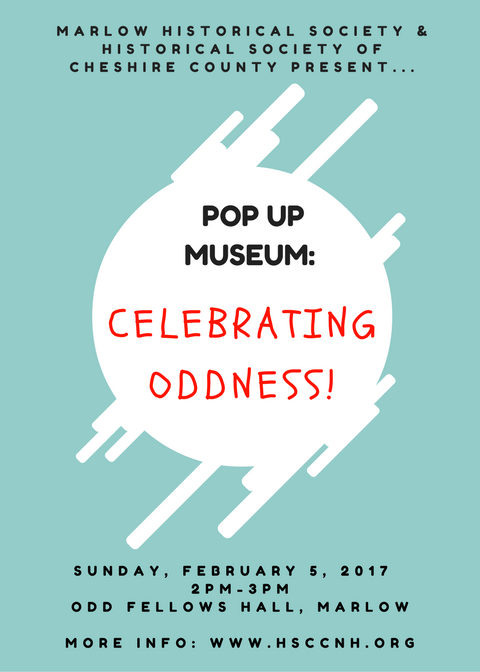 What's a Pop Up Museum? It's a show-and-tell event for adults and the theme is Celebrating Oddness. Find an object, a photograph, or write a poem that describes something odd that you've discovered in your travels or an odd event that has happened in your life. Perhaps there's something odd about yourself that you admire. Feature your item at the Odd Fellows Hall in Marlow on Sunday, February 5, 2017 from 2-3pm as part of a free and unique Pop Up Museum event. It's a special one-hour exhibit created by YOU. Display your item. Share your odd story. Look at other people's items. Listen to their odd stories. Have fun. It's that easy! Participants will bring their item home at the end of the event. Pop Up Museum-Celebrating Oddness! is co-hosted by the Marlow Historical Society and the Historical Society of Cheshire County; both work to communicate local history by exhibiting historic objects, photographs, and documents. For more information contact Jennifer Carroll at 603-352-1895 or dired@hsccnh.org.
Marlow By Heart: Poetry of a Small New Hampshire Town
Just in time for the holiday season, the Historical Society has compiled a book of Marlow poetry through the decades - from the 18th century to the present - matched with historical images and beautiful pictures by local photographers. The front cover is a watercolor by Marlow artist Stephanie Tickner, titled, "Ashuelot River from the Bridge to Cheshire Earth."
The books are $15.00. Contact the Marlow Historical Society at PO Box 12, Marlow, NH 03456, Maria Baril at 603-446-2292 or maria@barils.com to purchase one. The books are also available at the Marlow Library. Click here to see larger images...
The Winter 2017 Marlow Historical Society Newsletter Posted
This issue of the Marlow Historical Society Newsletter includes stories about Roddy Andrews, Marlow's police chief from the 1930s - 1960s, the Sand Pond Gun Shop, Marlow's Dillant connection, updates on the Murray Hall restoration project, and other interesting facts.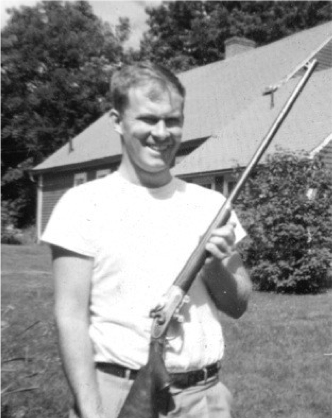 Marlow Historical Society Greeting Cards Available

These sketches were created by Randy Plotts and come in sets of 10 cards with envelopes for $5 per set.
Available by calling Maria Baril at446-2292.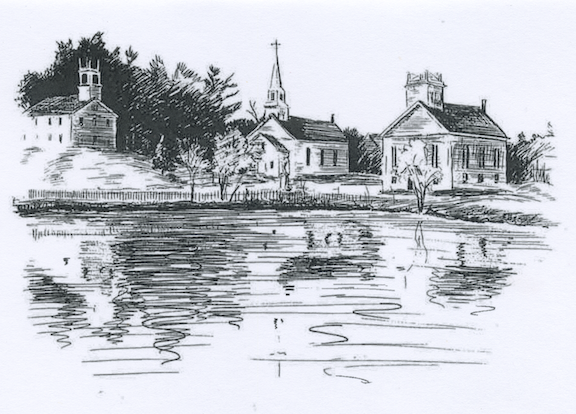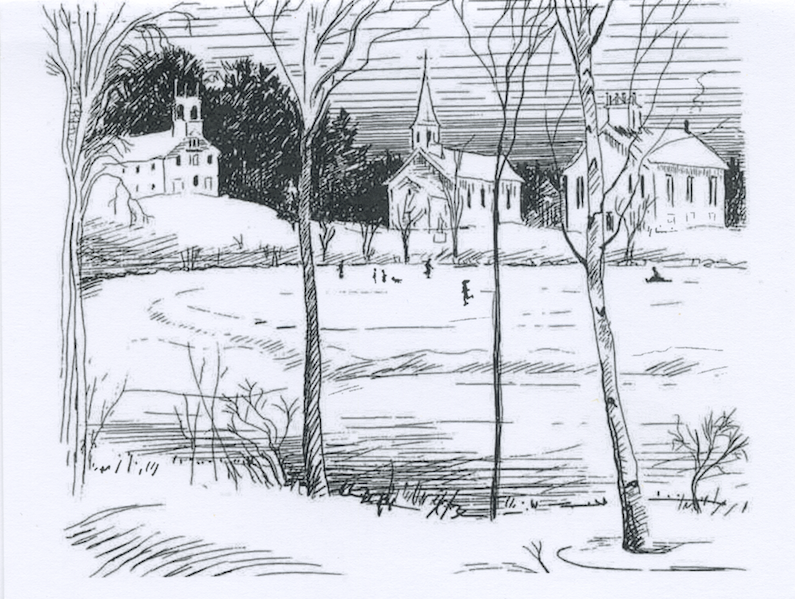 Marlow Historical Society Long-Sleeve Tees and Caps
with the Distinctive Giffin Elm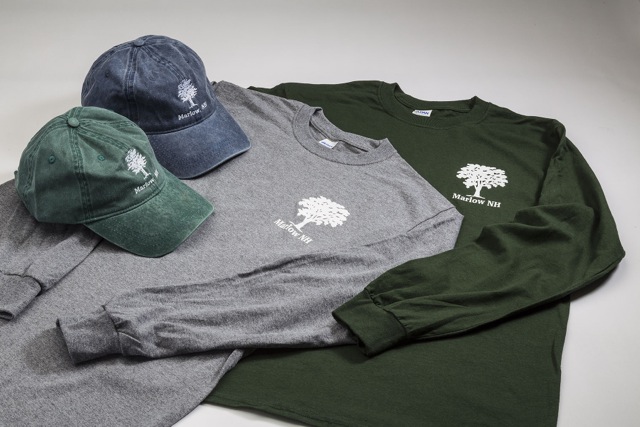 Available by calling Maria Baril at 446-2292.
They are also for sale at Aaron's Specialty, 604 NH Route 10, Marlow
Caps -$15.00
___________________________________________________
Many people who have purchased the Marlow Historical Society's tee shirts and caps, have inquired about the significance of the elm tree logo.

The ancient Giffin Elm was a notable Marlow landmark on Baine Road. Our Marlow History makes several references to it. On Page 168 for example: "House by old elm built by Patrick Giffin".

During the American Revolution the famous elm tree that stood near Boston Common became a rallying point and symbol of resistance. Many towns designated their own Liberty Trees as well.

Thomas Paine wrote a poem about the Goddess of Liberty coming down in a chariot of light, and it reads:

A fair budding branch from the gardens above,

Where millions with millions agree,

She brought in her hand as a pledge of her love,

And the plant she named Liberty Tree.

So now that you know what the logo stands for, wear your tees and caps with pride!!
WMUR's NH Chronicle - Thursday, April 28, 2016 - The Great Marlow-Stoddard Fire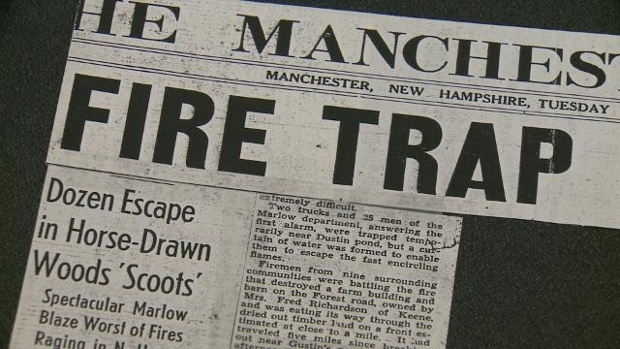 Remembering the great Marlow-Stoddard forest fire, seventy five years after it scorched four towns over four days
Renovation of Murray Hall - Marlow Historical Society 2016 Fundraiser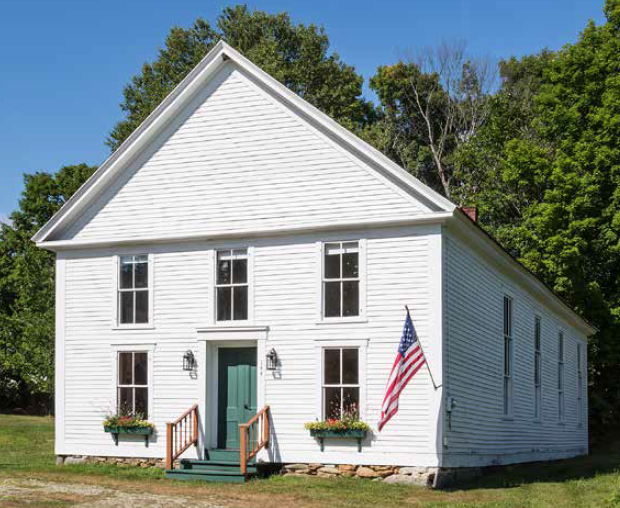 The Marlow Historical Society has owned Murray Hall, on Forest Road in Marlow NH, since 2002. Through the decades the building has been a Methodist Church, a Universalist Church, the Excelsior Grange, and finally a workshop and a storage facility for PC Connection. In 2002, Gallup & Hall conveyed the land and building to the Society, which immediately set upon its restoration. Click here to read about restoration progress and how you can help.
Posted: Monday, August 17, 2015 12:00 pm
By Meghan Foley Sentinel Staff
MARLOW - Local lore has it that sometime around the 1840s an elephant and her trainer came to town. The elephant's name was Lady Betsey, and she came all the way from Calcutta, India. But where Lady Betsey went after her rumored visit to Marlow remains a mystery including whether she left the town at all...read more...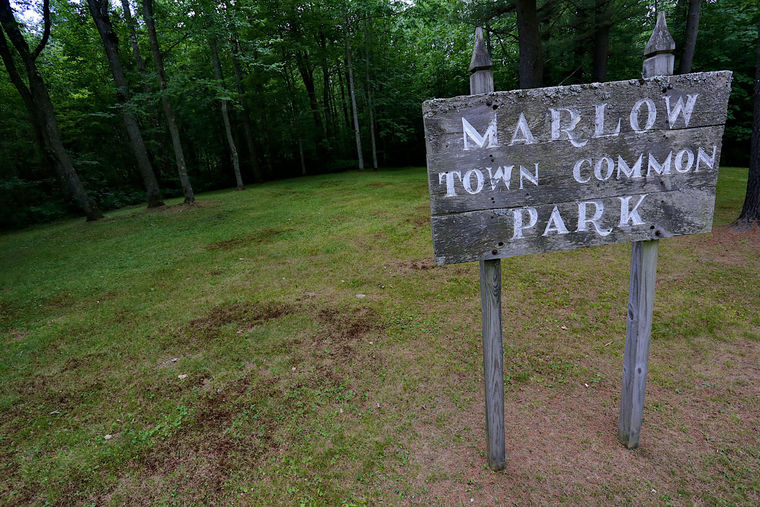 Bill Gnade / Sentinel Staff