Welcome to the Community Website for Marlow, New Hampshire
BINGO at the Odd Fellows
Saturday September 22, 2018 at 5:00 pm
Doors open at 4:00 pm

Odd Fellows Hall, Marlow, NH
Hot dogs, pizza and refreshments available for purchase.
NO ALCOHOLIC BEVERAGES ALLOWED
MUST BE 18 OR OLDER TO ENTER HALL- NO EXCEPTIONS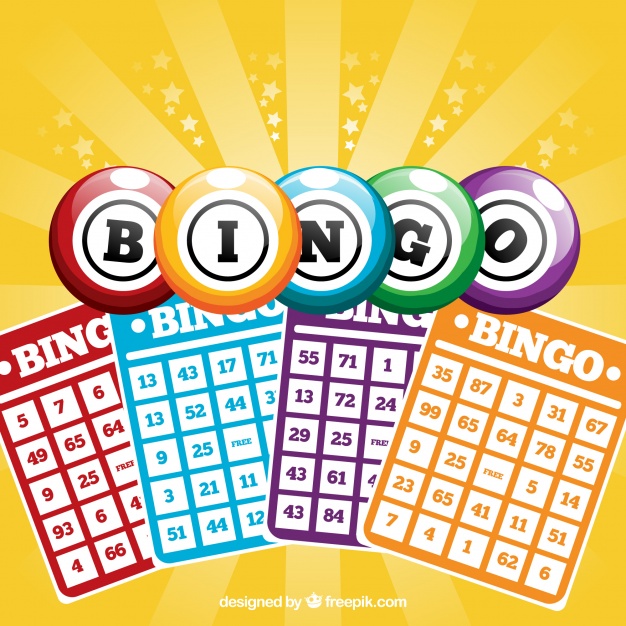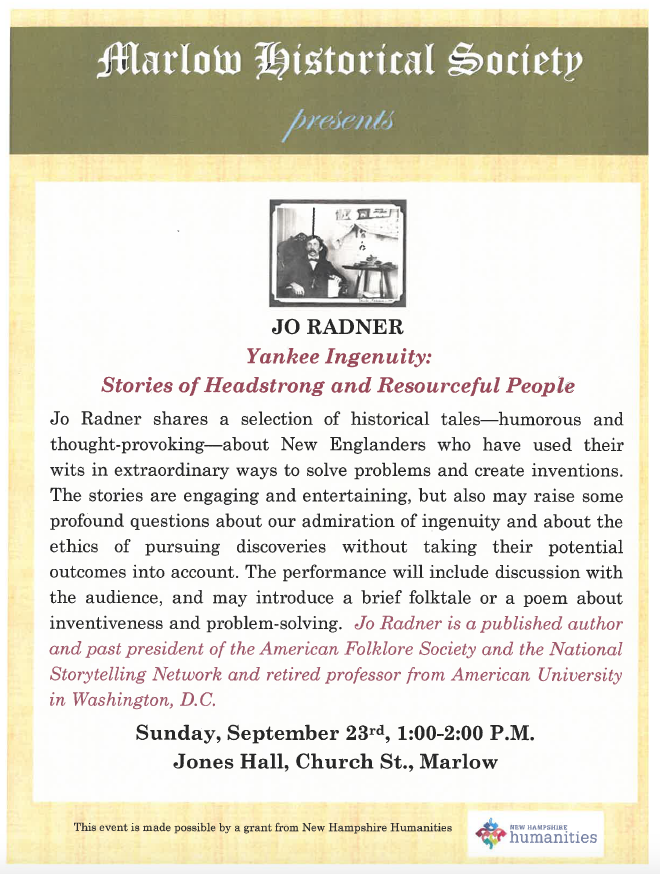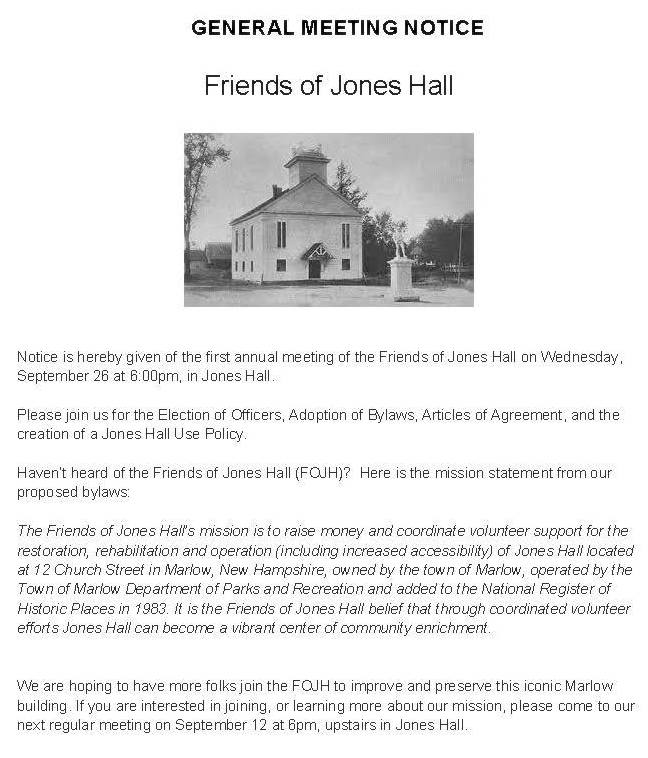 Marlow Historical Society Museum Open
Sunday, October 21, 10am - 12pm
Murray Hall, 149 NH-123, Marlow, NH 03456
Come visit the museum in renovated Murray Hall and be amazed by the hall's transformation into a museum showcasing the town's history.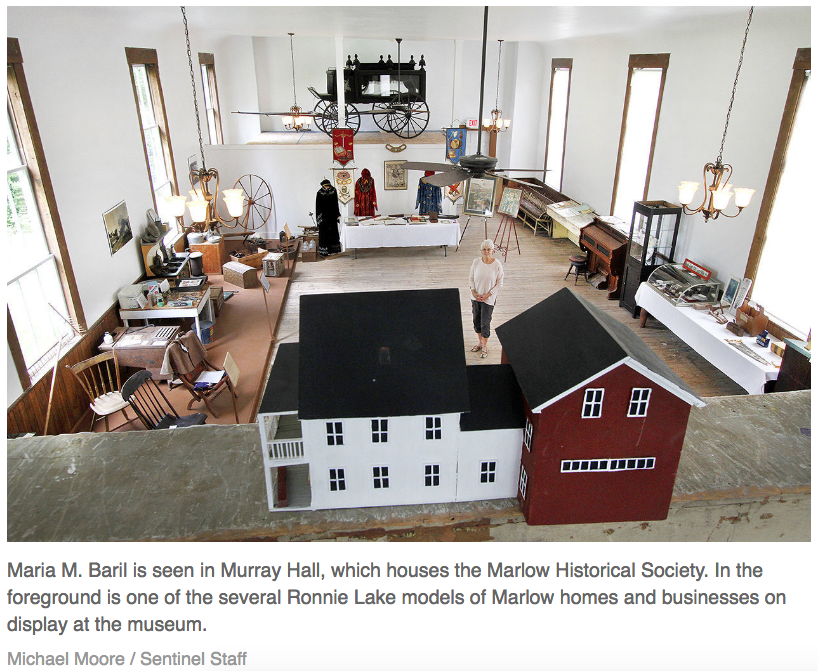 Aaron's Specialty Now Open for the Season!

Rain or Shine we are open!
Our hours are Tuesday throurgh Sunday, 11am-8pm.
Please stay tuned for our food specials as we will be adding more next week. Thank you for your continued support and patience.
We appreciate your business! Call us at 446-3933 for take out.
Home of Aaron's Hot Pepper Jelly
Ice Cream Shop/Specialty Shop
604 NH Route 10, Marlow, New Hampshire
We look forward to another eventful season!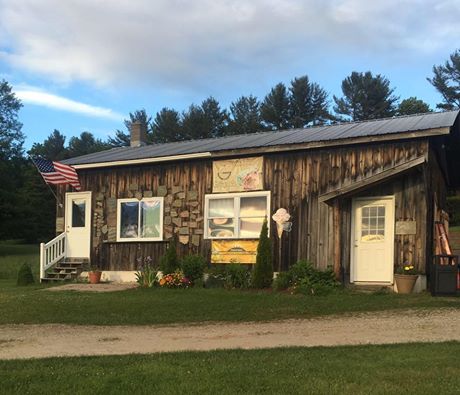 6/21/18
Town of Marlow
Public Notice

Glass can no longer be accepted with comingle

Due to changes in the recycling industry, glass can no longer be accepted with comingle. This change will take effect July 1, 2018.
Glass will need to be separated and placed in a different container, please see attendant for instructions.
6/14/18
TOWN OF MARLOW
PUBLIC NOTICE
LOOKING FOR VOLUNTEERS
The Town of Marlow has the following unfilled volunteer positions:

Supervisor of the Checklist - 1 position
Trustee of the Library - 1 position
Advisory Budget Committee - 1 position
Zoning Board - 2 positions
Agricultural Commission - 1 position
Conservation Commission - 2 positions
Parks and Recreation Committee - 4 positions
Joint Loss Management Committee - 2 positions

If you are interested and would like some more information please contact the
Town Office at:

Email: marlowtownoffice@marlownh.gov
Phone: 603-446-2245 Ext 1
Marlow Historical Society to open new museum space to the public next month
By Meghan Foley Sentinel Staff
June 11, 2018
MARLOW - A few years ago a person could walk through the double wooden doors of Murray Hall into a cozy foyer and then cavernous, dreary hall that had been left to the passage of time.
Today, a person can enter the same historic building and be amazed by the hall's transformation into a museum showcasing the town's history. Read more...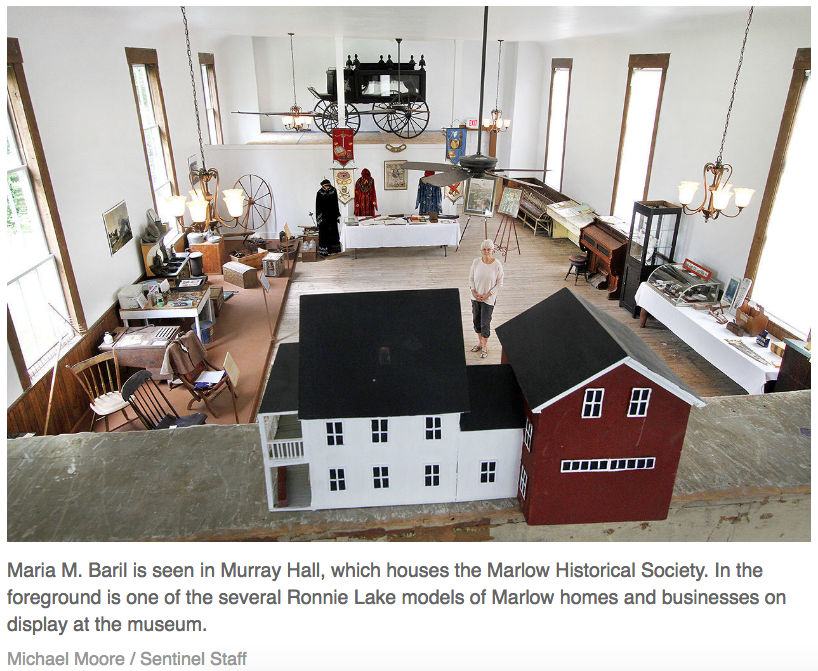 Marlow Historical Society. Spring/Summer 2018 Newsletter
Talking Machines in Marlow; How Tin Shop Pond Got its Name; The Phelps of Marlow; and the 1988 baseball team. Click here to read more...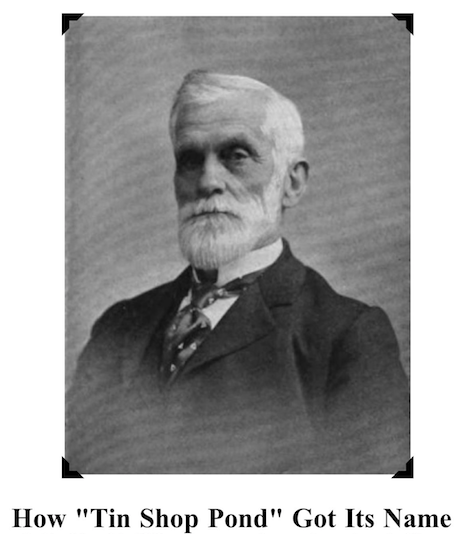 Marlow By Heart: Poetry of a Small New Hampshire Town
In 2016, the Marlow Historical Society published a book of Marlow poetry through the decades - from the 18th century to the present - matched with historical images and beautiful pictures by local photographers. The front cover is a watercolor by Marlow artist Stephanie Tickner, titled, "Ashuelot River from the Bridge to Cheshire Earth." The books are $15.00, and proceeds support the ongoing efforts of the Historical Society.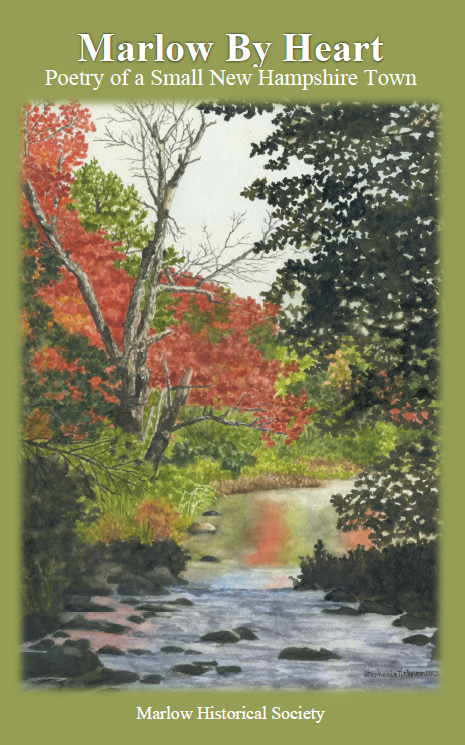 Marlow Historical Society Greeting Cards Available

These sketches were created by Randy Plotts and come in sets of 10 cards with envelopes for $5 per set.
Available by calling Maria Baril at 446-2292.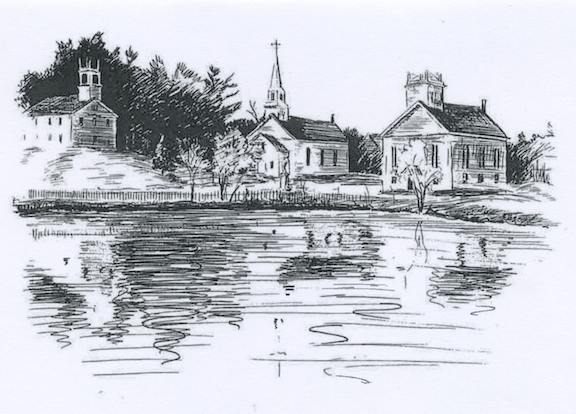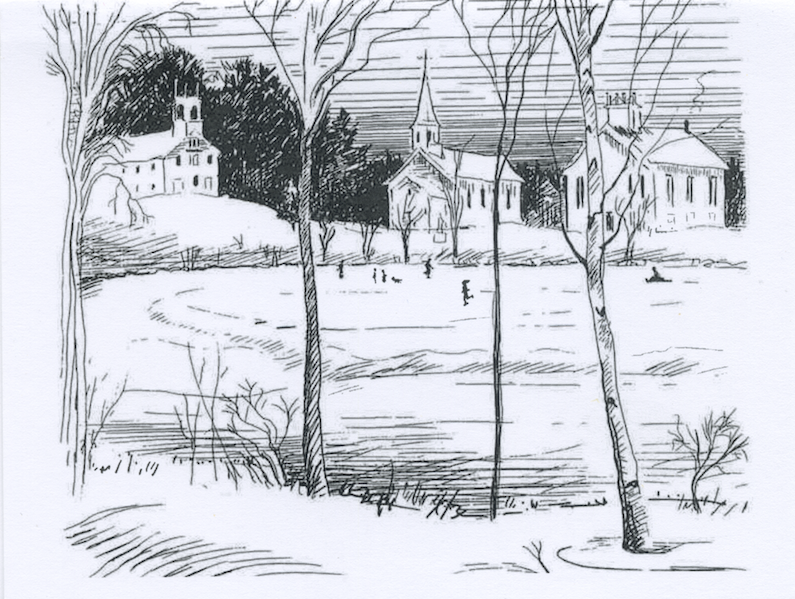 This town, a largely undisturbed agricultural community on the northern border of Cheshire County, is the prototype of a Yankee rural village.It was granted in 1753 under the name Addison, in honor of Joseph Addison, British essayist and poet, and Secretary of State for England, who signed the appointment papers making John Wentworth Lieutenant Governor of New Hampshire under the jurisdiction of Massachusetts in 1717.

Although there are persistent rumors that Marlow is named for the English poet, Christopher Marlowe, it seems more likely that, like many New England towns, Marlow is named after a place and the name "Marlow" recalls Marlowe, England. Perhaps some of our early settlers came from that region.

A New Hampshire source supports this view: New Hampshire: A History, Resources, Attractions, and Its People volume 1 by Hobart Pillsbury. He wrote, "It was re-granted in 1761 to William Noyes and others and named Marlow after an English town" (Pillsbury, p 234). Genealogical research on the origins of Marlow's settlers might shed light on the issue.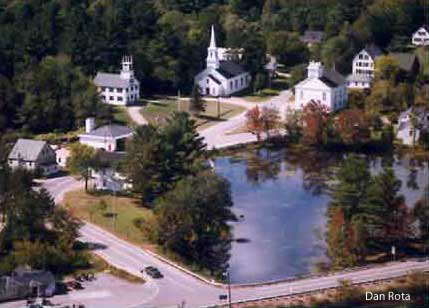 The picturesque village center, with its white church, Odd Fellows Hall, Town Hall and lily pond is one of the region's most photographed scenes and often the subject of an artist's brush. Marlow is the site of many marks of glacial action, and minerals are still found here. A woodworking industry once used the water power of the Ashuelot River to produce tools, furniture and wooden buckets from lumber cut nearby.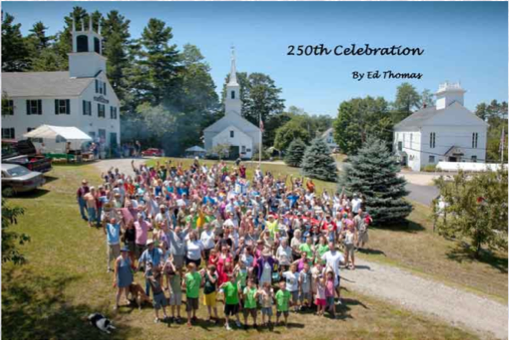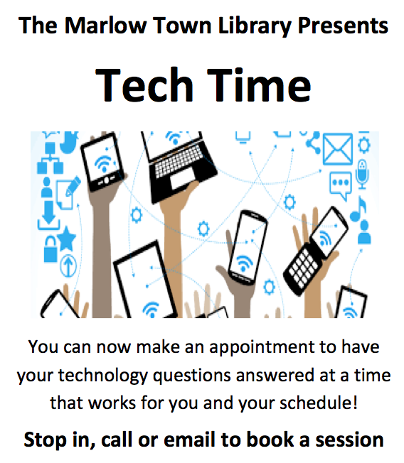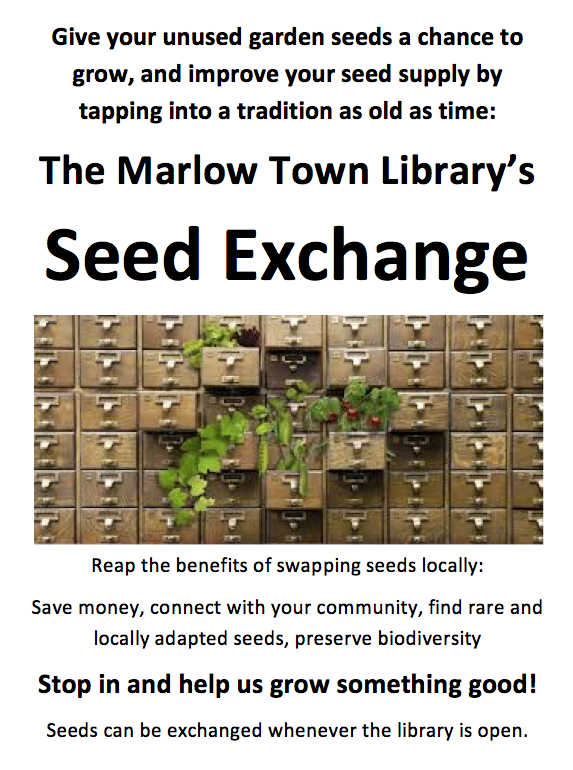 Amazon Smile will donate 0.5% of your online purchases to
Marlow Children's Enrichment Trust
when you order online with Amazon Smile
Please consider shopping at Smile.Amazon.com and help support the Marlow Children's Enrichment Trust by choosing our 501(c)(3) non-profit group to receive .5% of the proceeds of your order.

The process is simple - there is no cost to you, it's easy and fast to sign up, and it's easy to change to another non-profit to spread the funds! Thank you for your support!
Click on the yellow button below to get started