Welcome to the Community Website for Marlow, New Hampshire
Marlow also has an Official Town Website where you can find forms and documents,
information about town departments, board minutes and more at http://marlownh.gov
"Four Days of Fury" Film Showing
Thursday, April 28 7-9 pm
Putnam Theater at Keene State College

After the infamous Hurricane of 1938, local forests were littered with dense tangles of storm-toppled trees. Everywhere, people were setting up portable saw mills to salvage the downed and tinder-dry wood. On an unusually hot afternoon in April 1941, one of those mills sparked, igniting a great conflagration. Over the next three days, flames roared across 24,000 acres in four towns – burning 48% of Marlow and 42% of Stoddard in what would become the largest forest fire in New Hampshire's history. Join us on the 75th anniversary of the Great Marlow-Stoddard Fire for a preview of Four Days of Fury, a forthcoming documentary about the legendary blaze, told through the recollections of people who experienced it firsthand. Filmmaker and local historian Tracy Messer will introduce the film, and be on hand for questions afterward.
Thursday, April 28, from 7 to 9 p.m. in the Putnam Theater at Keene State College. For more information, contact Brett Amy Thelen at thelen@harriscenter.org or (603) 358-2065.
Cosponsored with the Monadnock Conservancy, the Historical Society of Cheshire County, and the Keene State College Film Society.
WMUR's NH Chronicle - Thursday, April 28, 7pm
The Great Marlow-Stoddard Fire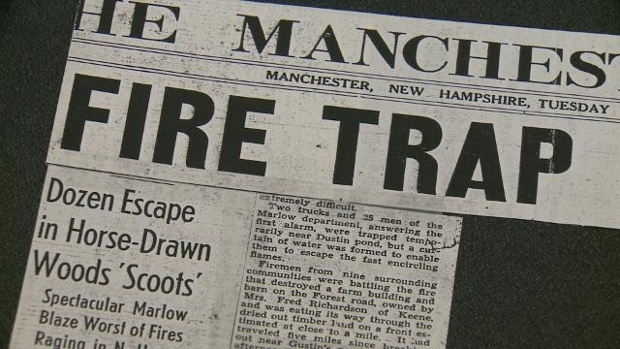 Remembering the great Marlow-Stoddard forest fire, seventy five years after it scorched four towns over four days
75th Anniversary Marlow Fire Bus Tour
Saturday, May 7 at 10:00 am Marlow, NH
By: Monadnock Conservancy, Historical Society of Cheshire County & Harris Center for Conservation Education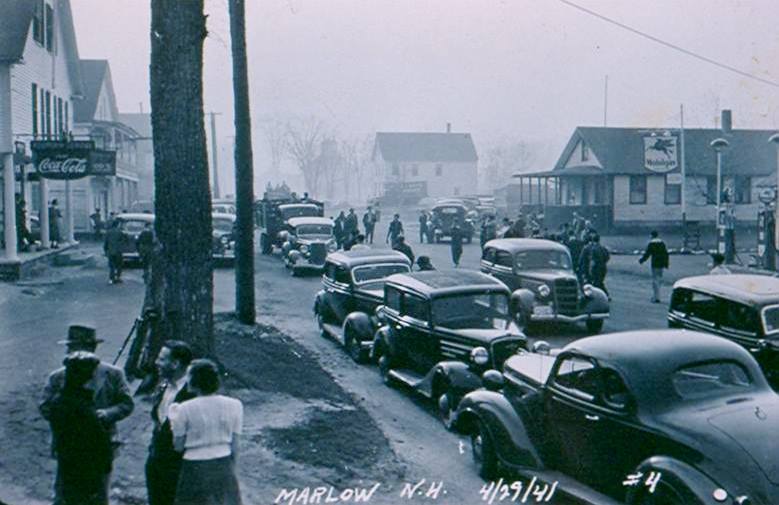 Join filmmaker and historian Tracy Messer and other local experts on the 75th Anniversary of the Great Marlow-Stoddard fire for a bus tour of the area impacted by the fire. Learn how the fire shaped the history, forest and culture of Marlow and Stoddard. Stops will include the fire's ignition site at Gustin Pond, Bald Mountain (Marlow Profile), the village of Marlow, and Pitcher Mountain. Get out at select stops for short guided walks as you hear about the history at that location.
At the Bald Mountain stop, you will be treated to the grand opening of the Monadnock Conservancy's newest property, the Elizabeth Burns McIntire Forest, which was recently donated by the Sands family. You will hear brief remarks about the land from the Sands and others and have the option of two guided hikes. Lunch will be provided.
IMPORTANT NOTE: Tickets are $20/person which includes lunch. We encourage payment through this site using Paypal. Or mail a check to the Monadnock Conservancy, P.O. Box 337, Keene, NH 03431. Please register for the event on this site as space is limited to 35 people.
DAY OF EVENT: Park your car at the Marlow School (Perkins Academy) parking lot at 919 Route 10 in Marlow at 9:45 a.m. Carpooling is encouraged as parking is limited. The bus will leave from the parking lot to start the tour at 10 a.m.
Event is rain or shine. Please bring good walking shoes and a water bottle.
Great Marlow-Stoddard Forest Fire 75th Anniversary

Hike to Stoddard Rocks
Sunday, May 8, 9:30am-3pm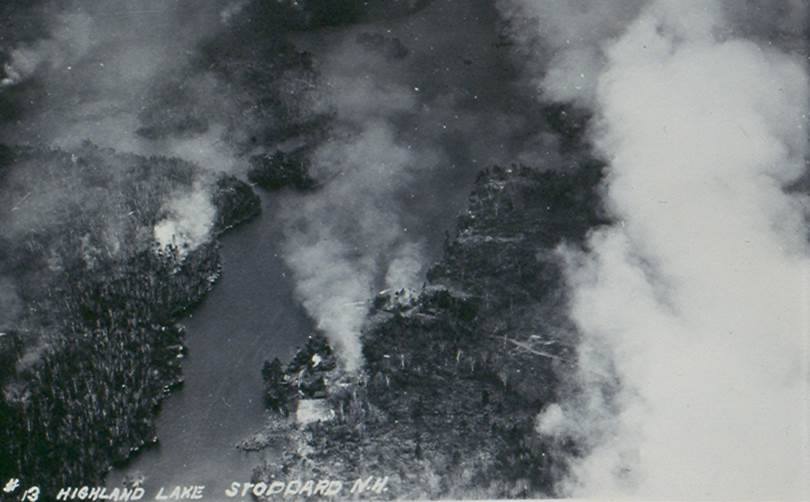 On April 28, 1941, Fred Jennings was manning the Pitcher Mountain lookout tower. Winds were blowing at a crisp 18 mph out of the northwest under bright blue skies. The relative humidity was barely 11%. The month of April was the driest on record since 1871. Fred wished it would rain because the woods were too dry. A little cloud developing on the horizon caught his eye, but he realized it wasn't big enough to hold much water. A cloud? Heck no, it was smoke! Over the next four days, the Great Marlow-Stoddard Fire consumed over 24,000 acres, becoming the largest fire in New England to feed off the fuel left behind by the Hurricane of 1938. Join Geoff Jones, Stoddard resident and professional forester, for a hike to Stoddard Rocks, and relive the experience through evidence that still lies on the land 75 years later. Expect a moderately strenuous, 4-mile hike, with additional road walking of up to 2 miles. Bring water and lunch, and meet at 9:30 a.m. at the Highland Lake Marina in Stoddard. Back by 3 p.m.
For more information, please contact Eric Masterson at masterson@harriscenter.org or (603) 525-3394.
Co-sponsored by the Harris Center for Conservation Education, the Monadnock Conservancy, and the Historical Society of Cheshire County.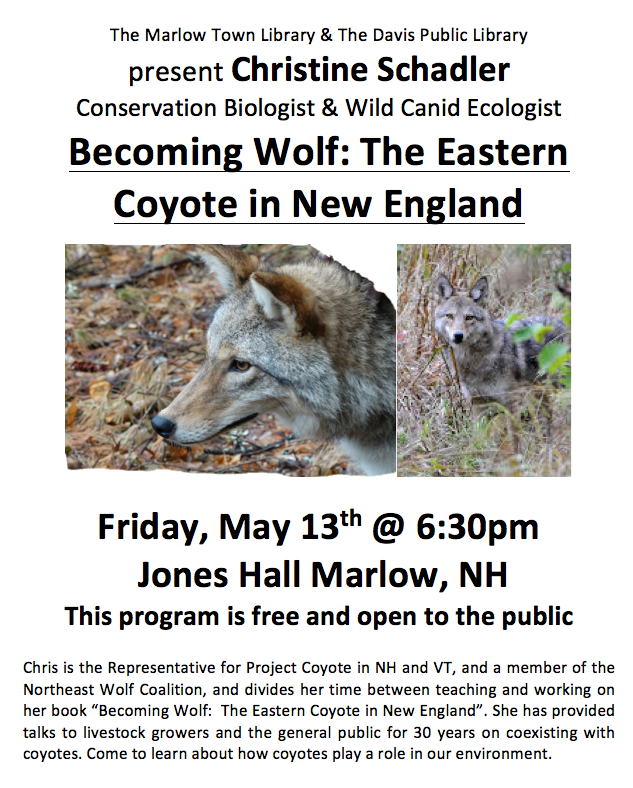 Annual Marlow Odd Fellows Route 10 Road Clean-Up
Saturday, May 14, 8:30 am
Volunteers will meet at the Odd Fellows Lodge at 8:30am. Coffee and baked goods will be available. We can socialize, review a few safety rules, finalize road section assignments and be "on the road" (pun intended) by 9ish.Reflective vests and bags will be provided.
Last year with only 6 members of Forest Lodge and two volunteers participating we walked each side of Route 10, covering 12 miles, and collected a record 62 bags of trash!
Ideally we would like to have 2 people for each of the six sections (1 mile each) of road we cover.

Some of our members and volunteers who have participated for many years are now no longer able to do so.

Therefore the Lodge is asking for VOLUNTEERS. Anyone wishing to assist in this effort to keep our town cleared of bottles and trash can contact me at this site, or through personal message or email – kdassau1@yahoo.com, or contact any lodge member. Your assistance will be much appreciated.
Hope to see you then.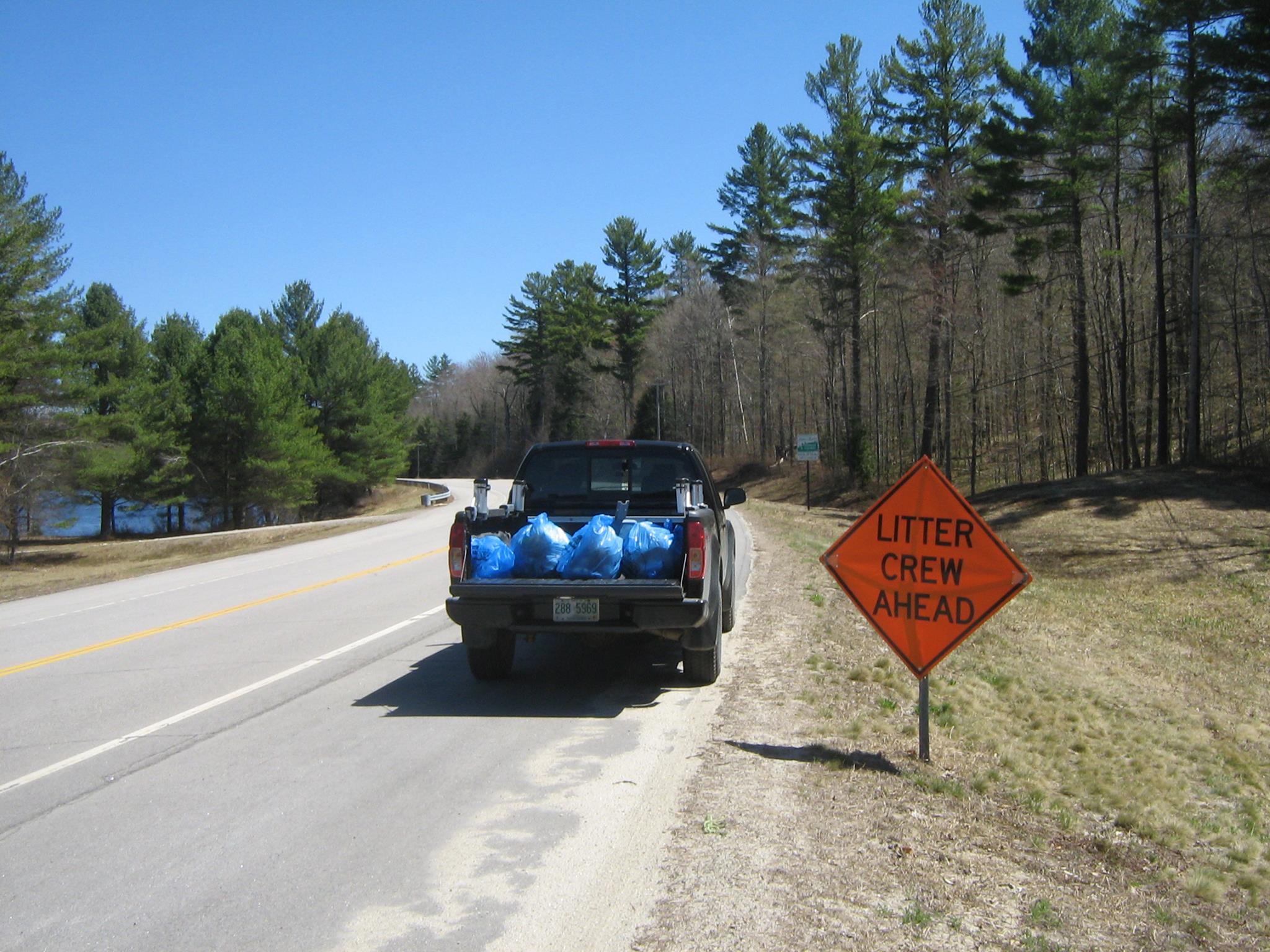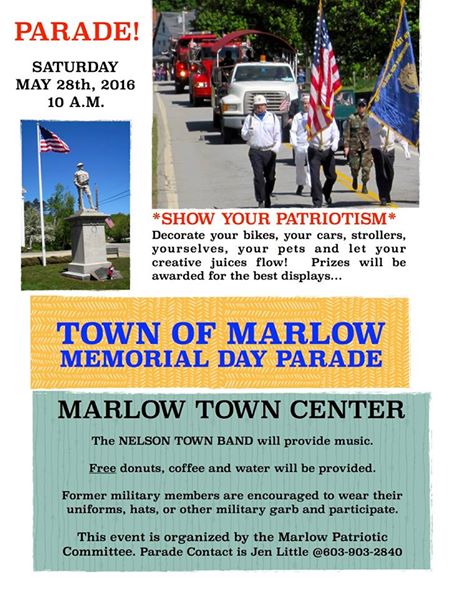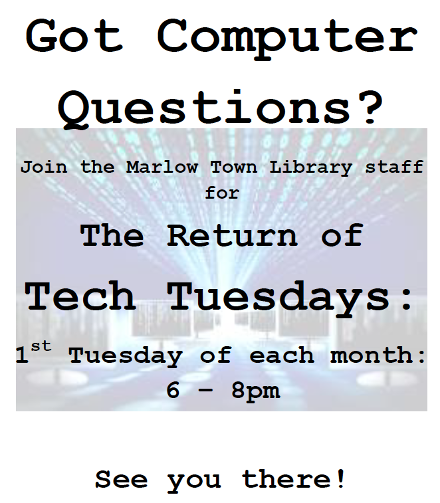 Renovation of Murray Hall - Marlow Historical Society 2016 Fundraiser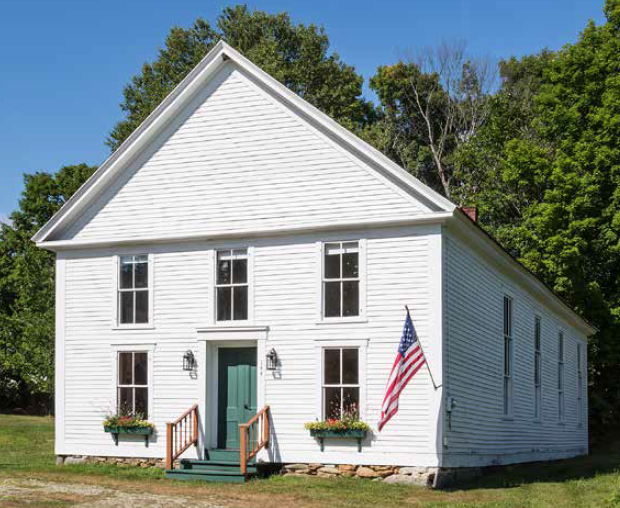 The Marlow Historical Society has owned Murray Hall, on Forest Road in Marlow NH, since 2002. Through the decades the building has been a Methodist Church, a Universalist Church, the Excelsior Grange, and finally a workshop and a storage facility for PC Connection. In 2002, Gallup & Hall conveyed the land and building to the Society, which immediately set upon its restoration. Click here to read about restoration progress and how you can help.
The Winter 2016 Marlow Historical Society Newsletter Posted
Read about the history of the Christmas Trees Inn, including memories of those who worked there when it was an inn, find out how some local sites got their names, and learn about one of the world's most celebrated prima donnas of the nineteenth century who wasborn in Marlow and was a descendant of one of Marlow's oldest families. Read more...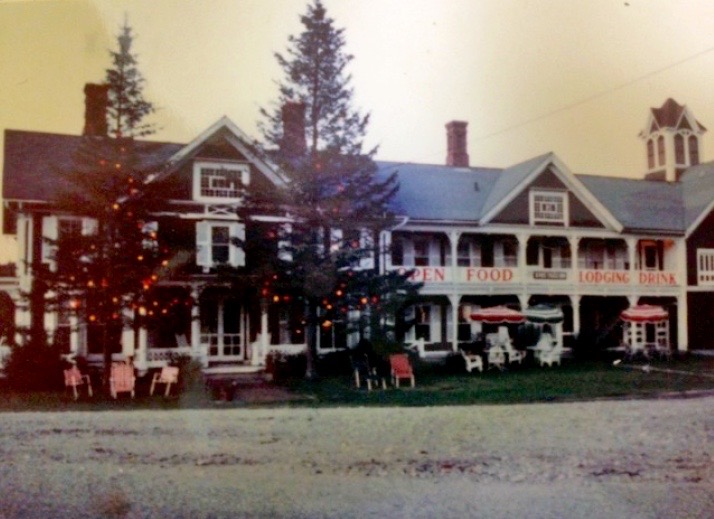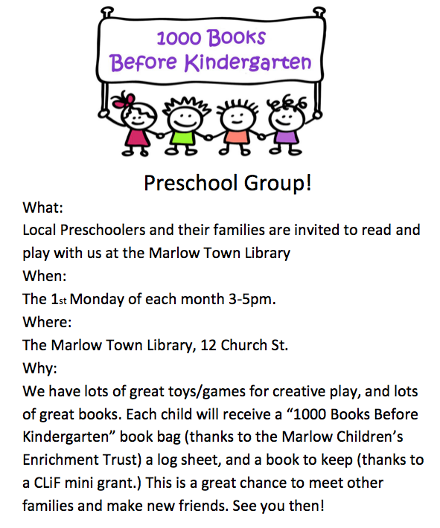 9/14/15
The trustees of the Marlow Children's Enrichment Trust are able to offer funds to help bring an activity or a program to Marlow children this year.
Who can apply for funds? Teachers of the Marlow School District, and individuals and groups associated with Marlow whose purpose for these funds is for enriching Marlow children.
Click here to see a larger version of the letter from the trust...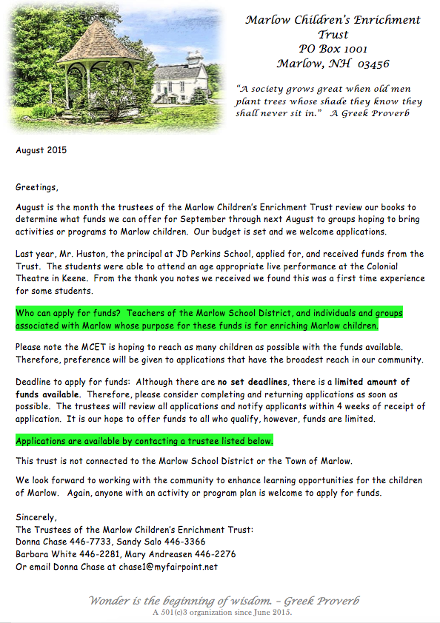 Fall 2015 Marlow Historical Society Newsletter Has Been Posted
Read about a time when Marlow had 8 school districts, each with its own one room school house, learn about a Marlow connection to Quebec, read a mystery letter written on birch bark in 1926, and see before and after photos of the ongoing restorations inside Murray Hall, new home of the Historical Society.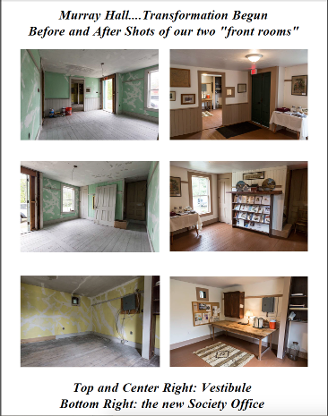 This town, a largely undisturbed agricultural community on the northern border of Cheshire County, is the prototype of a Yankee rural village.It was granted in 1753 under the name Addison, in honor of Joseph Addison, British essayist and poet, and Secretary of State for England, who signed the appointment papers making John Wentworth Lieutenant Governor of New Hampshire under the jurisdiction of Massachusetts in 1717.

Although there are persistent rumors that Marlow is named for the English poet, Christopher Marlowe, it seems more likely that, like many New England towns, Marlow is named after a place and the name "Marlow" recalls Marlowe, England. Perhaps some of our early settlers came from that region.

A New Hampshire source supports this view: New Hampshire: A History, Resources, Attractions, and Its People volume 1 by Hobart Pillsbury. He wrote, "It was re-granted in 1761 to William Noyes and others and named Marlow after an English town" (Pillsbury, p 234). Genealogical research on the origins of Marlow's settlers might shed light on the issue.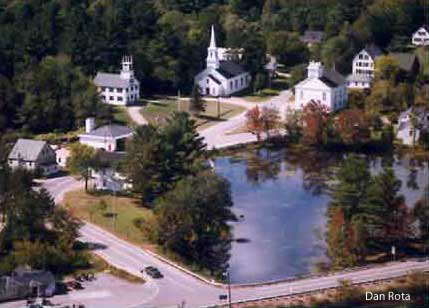 The picturesque village center, with its white church, Odd Fellows Hall, Town Hall and lily pond is one of the region's most photographed scenes and often the subject of an artist's brush. Marlow is the site of many marks of glacial action, and minerals are still found here. A woodworking industry once used the water power of the Ashuelot River to produce tools, furniture and wooden buckets from lumber cut nearby.