Welcome to the Community Website for Marlow, New Hampshire
Marlow also has an Official Town Website where you can find forms and documents,
information about town departments, board minutes and more at
http://marlownh.gov
Odd Fellows Annual Pot Luck & Penny Social
Saturday, February 28, 5:00pm
The Odd Fellows will be hosting their annual Potluck & Penny Social on Saturday, February 28th. The potluck will begin at 5pm with the Penny Social beginning after supper. A good time to be had for all while supporting good will in your community. Participants are encouraged to bring usable, attractive items to be auctioned off at the Penny Social. For more information you can contact Bill Plotts at 446-3490.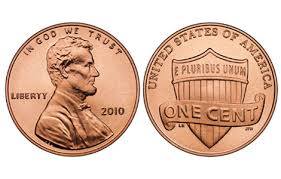 The Winter 2015 Marlow Historical Society Newsletter Posted

The winter edition of the Historical Society newsletter is dedicated to Joe Feurer, who passed away January of this year. You can read his article on the immigrant experience in Marlow, along with stories on the progress of the Murray Hall restoration, the granting of a LCHIP grant, and the first car to come to Marlow.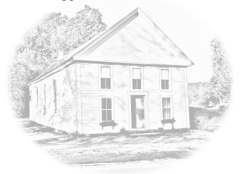 Marlow Odd Fellows Scholarship Fundraiser
For just $25, you can have your business card on the Marlow Odd Fellows placements for one year, and help fund their 6th annual scholarship fun.
Click here to find out how to help by March 2
.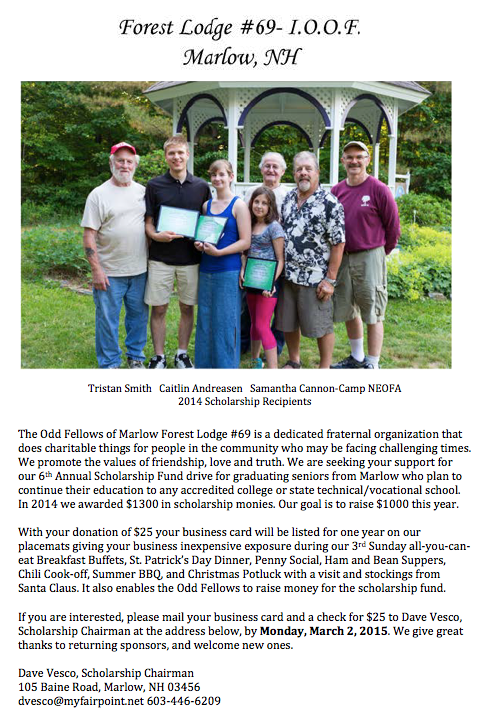 Odd Fellows St. Patrick's Day Dinner Saturday, March 14

The annual St. Patrick's Dinner at the Odd Fellows Lodge is on Saturday March 14. There are two seatings at 5:00 and 6:30 pm. Tickets are: adults $12.00, children under twelve $5.00.
Contact Lyle Handy or Joe Baril for tickets.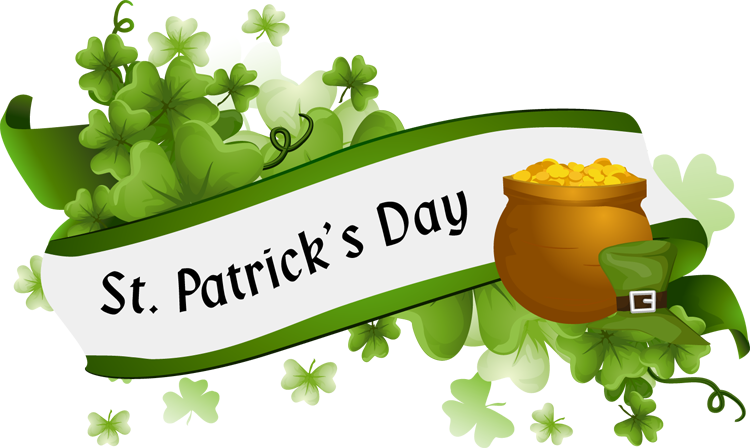 The Monadnock Localvores are proud to announce:
Jeffrey P. Smith Farm Scholarship Program is Now Accepting Applications and Donations for 2015

To apply, please print out the application below: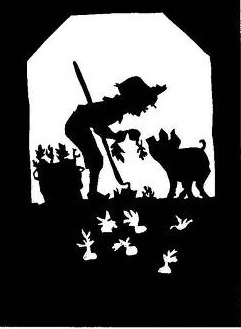 Does your child have interest in farms or gardening? Would he or she like to explore these interests this summer?
The Jeffrey P. Smith Farm Scholarship endeavors to connect young people with agriculture and the natural world around them. We hope to inspire the next generation of local farmers and local food supporters, by giving regional children an opportunity, through summer camp, after school programs, or membership to NOFA NH, to experience sustainable farming practices first-hand and watch their efforts bear fruit.
After completion
please submit by March 31st
to
11 Industrial Park Drive
Walpole, NH 03608
or scan and email to
amanda@cheshireconservation.org
--------------------------------------------------
Donations to the scholarship fund are accepted through out the year. Donations can be made by sending a check made out to CCCD to 11 Industrial Park Dr., Walpole, NH 03608. Please note that the check is a donation the the Scholarship Fund. Thank you!
----------------------------------------------------
If you would like paper copies to share with a school or youth group please do not hesitate to contact us.
Marlow Children's Enrichment Trust Funds Available

The trustees of the Marlow Children's Enrichment Trust are able to offer funds to help bring an activity or a program to Marlow children this year.
Who can apply for funds? Teachers of the Marlow School District, and individuals and groups associated with Marlow whose purpose for these funds is for enriching Marlow children. Click here to see a larger version of the letter from the trust...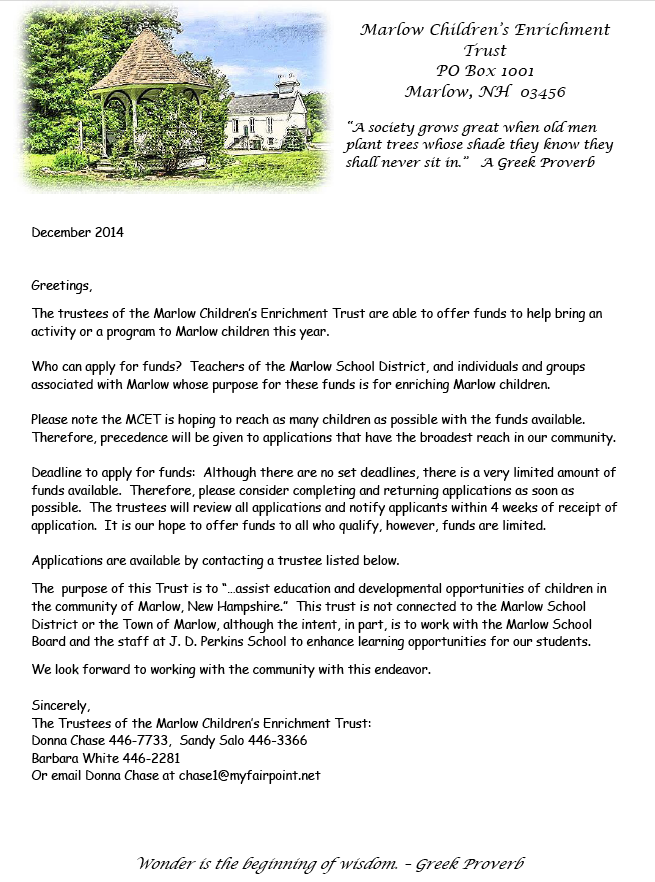 The Stores of Marlow calendar is now available for purchase at the town library, or by contacting the Marlow Community Alliance at marlowalliance@gmail.com. The cost is only $10. This is such a great cause! We appreciate your support to bring a gas station and store back to Marlow. Thank you.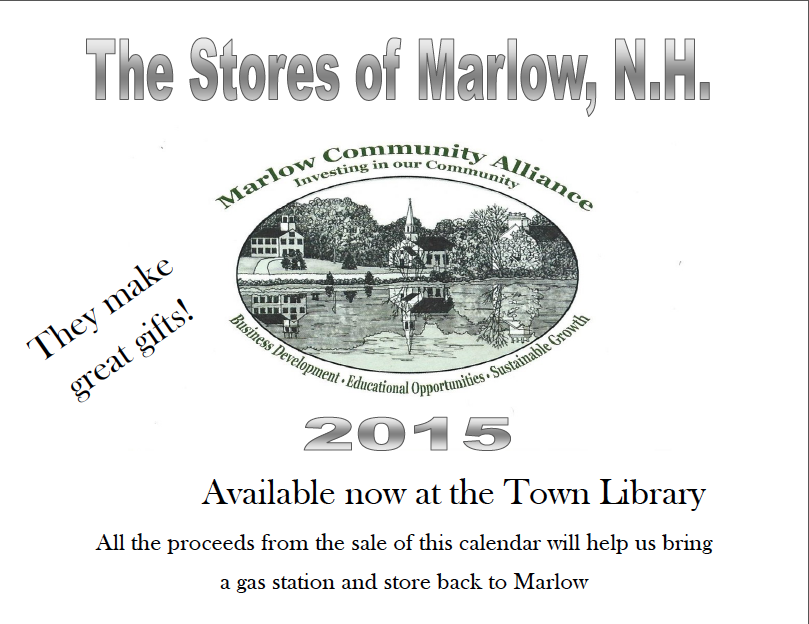 Historical Society Note Cards for Sale
to Support Murray Hall Restoration

Marlow photographer, Ed Thomas, has designed some new note cards using old photos from the Marlow Historical Society archives. Images include Old Home Day scenes, the Marlow Academy, Marlow Inn, the Farley Bridge, and Main Street scenes. They are 7" x 5". The price is $3.00, or 5 for $12.50. Of course, all profits go to the Murray Hall project.
Please contact Maria Baril at 446-2292 to place an order. Thanks!
Click here to see more images...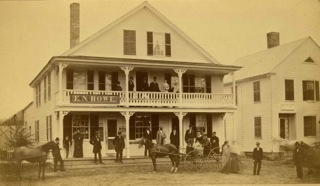 Back by popular demand...

The Historical Society has brought back Marlow tee shirts with the Marek Bennett "summer and winter" designs - long sleeves, forest green. The price is $20.00. Every penny from sale of the tee shirts goes towards the ongoing renovation of Murray Hall.
Click here to see larger photos...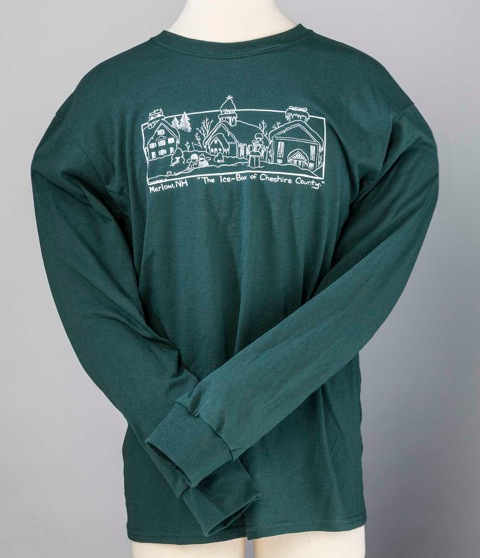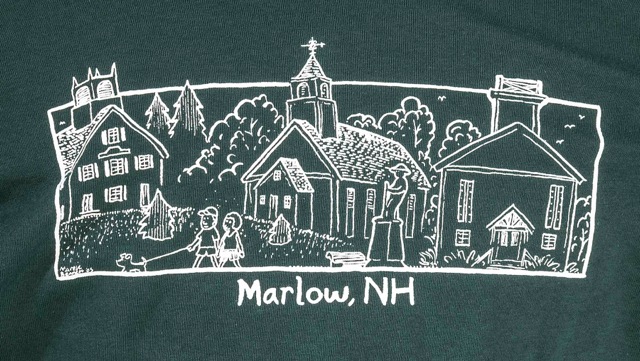 The Keene Sentinel interviewed Marlow Community Alliance board members recently about their ongoing efforts to bring a store and gas station back to Marlow. You can read
the complete article here....
Marlow community group aims to build gas station, general store
MARLOW - If you run out of gas on Route 10 in this small town, you'd better hope you find a friendly neighbor's door to knock on.
And don't worry, you wouldn't be the first one.
Since a gas station in town closed three years ago, Marlow residents and people passing through have no choice but to drive 16 miles in one direction to fill up. Likewise, the closest store to get a last-minute gallon of milk is about 15 minutes away.
But members of a new community group hope to change that within the next two years....read more

April 2, 2014


Status Update from the Marlow Community Alliance
The Marlow Community Alliance Board of Directors is currently researching several potential properties in downtown Marlow. We are also actively fundraising, both with grant opportunities and with local events. Our original timeline predicted that in the first year the Board would be developed, corporate and non-profit status would be completed and planning grants would be written - and hopefully funded. We are still within our first year activities and feeling positive that, thus far, our timeline continues to be accurate.
Please check the events tab of our Facebook page for upcoming fundraisers - our Fundraising Committee has many exciting events planned in the coming year, both to raise money for this project and to also bring the community together to support our mission:
To provide goods, services and the opportunity for our community to expand by supporting educational, economic, workforce, and community development in Marlow and surrounding towns, while maintaining the rural and historical character of our region, and:

To retain and promote citizenship and encourage investment in our shared communities.
Please stop by the library to purchase a
'got gas?' long sleeve t-shirt for just $20
to help with start-up costs (insurance, filing fees, etc). If you have any questions, please feel free to contact us at marlowalliance@gmail.com. We look forward to working with all of you for the success of our community!
Thank you!
Marlow Community Alliance Board of Directors
Click on the picture below to see a larger image...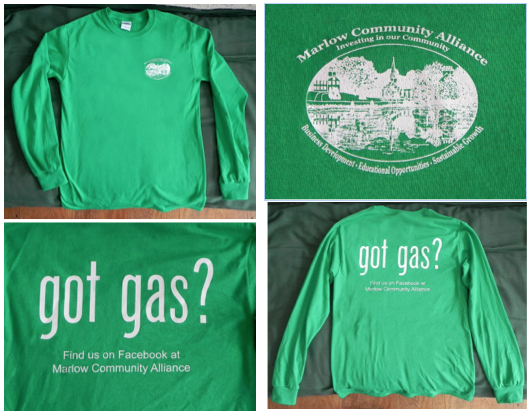 This town, a largely undisturbed agricultural community on the
northern border of Cheshire County, is the prototype of a Yankee rural village.It was granted in 1753 under the name Addison, in honor of Joseph Addison, British essayist and poet, and Secretary of State for England, who signed the appointment papers making John Wentworth Lieutenant Governor of New Hampshire under the jurisdiction of Massachusetts in 1717.

Although there are persistent rumors that Marlow is named for the English poet, Christopher Marlowe, it seems more likely that, like many New England towns, Marlow is named after a place and the name "Marlow" recalls Marlowe, England. Perhaps some of our early settlers came from that region.

A New Hampshire source supports this view: New Hampshire: A History, Resources, Attractions, and Its People volume 1 by Hobart Pillsbury. He wrote, "It was re-granted in 1761 to William Noyes and others and named Marlow after an English town" (Pillsbury, p 234). Genealogical research on the origins of Marlow's settlers might shed light on the issue.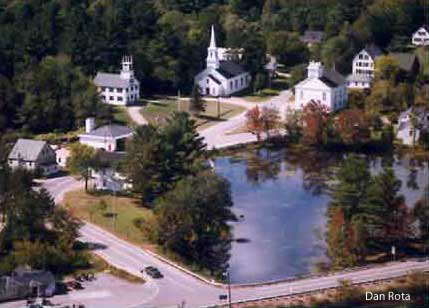 The picturesque village center, with its white church, Odd Fellows Hall, Town Hall and lily pond is one of the region's most photographed scenes and often the subject of an artist's brush. Marlow is the site of many marks of glacial action, and minerals are still found here. A woodworking industry once used the water power of the Ashuelot River to produce tools, furniture and wooden buckets from lumber cut nearby.