Welcome to the Community Website for Marlow, New Hampshire
Marlow also has an Official Town Website where you can find forms and documents,
information about town departments, board minutes and more at http://marlownh.gov
Presidential Primary
Tuesday, February 9, 2016
Voting is held at John D. Perkins, Sr. Academy (the town elementary school) on Route 10.
Polls open at 8:00 am and close at 7:00 pm.
Unregistered voters can register to vote at the polls and then cast their ballot. Photo ID is required.
TOWN OF MARLOW PUBLIC NOTICE
You are hereby notified that the Marlow Advisory Budget Committee will hold a public hearing on the proposed 2016 budget on
Thursday, February 11th at 7pm at the Marlow Town Office.

Proposed warrant articles will also be presented at the time.
Marlow Board of Selectmen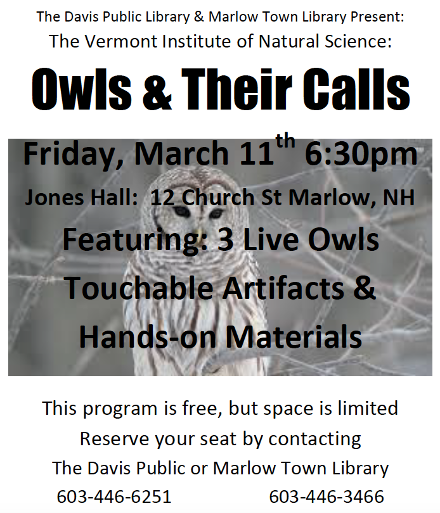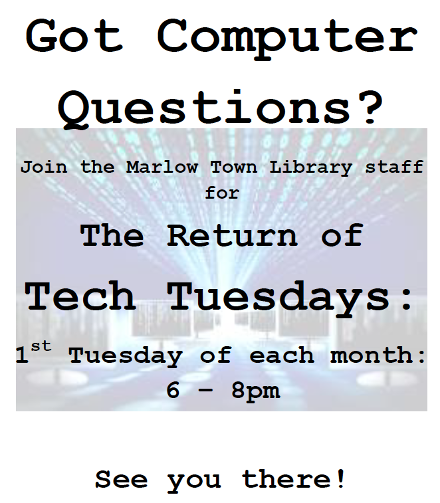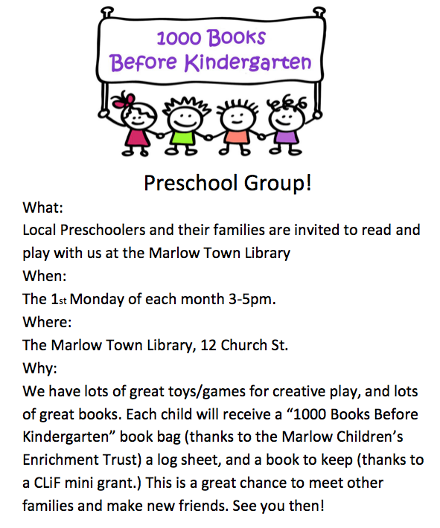 9/14/15
The trustees of the Marlow Children's Enrichment Trust are able to offer funds to help bring an activity or a program to Marlow children this year.
Who can apply for funds? Teachers of the Marlow School District, and individuals and groups associated with Marlow whose purpose for these funds is for enriching Marlow children.
Click here to see a larger version of the letter from the trust...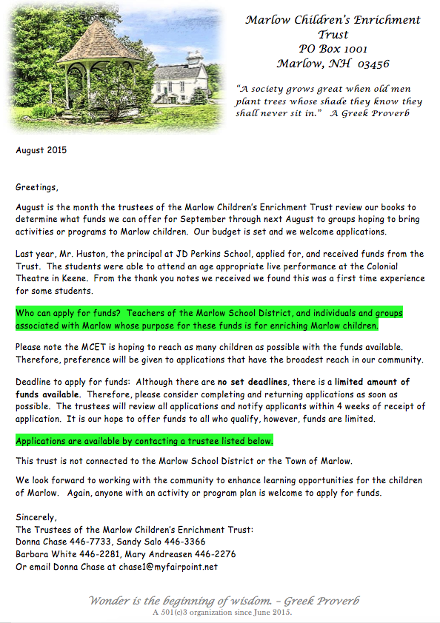 Fall 2015 Marlow Historical Society Newsletter Has Been Posted
Read about a time when Marlow had 8 school districts, each with its own one room school house, learn about a Marlow connection to Quebec, read a mystery letter written on birch bark in 1926, and see before and after photos of the ongoing restorations inside Murray Hall, new home of the Historical Society.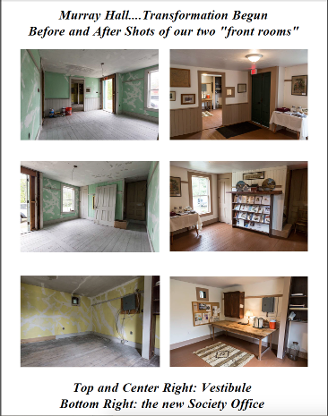 9/2/15

VOLUNTEERS NEEDED
CEMETERY TRUSTEES AND TRUSTEE OF THE TRUST FUND
The Town of Marlow has three vacancies for Cemetery Trustees and one for the Trustees of Trust Funds.
Cemetery Trustees are responsible for the care and maintenance of the Town's three cemeteries. Cemetery Trustees establish bylaws, prepare a budget every year, prepare the deeds or right to inter and oversee the maintenance of the cemeteries.
Trustees of Trust Funds are the custodian of the Town's perpetual care funds, charitable trusts, and capital reserve/expendable trust funds. Trustees make decisions on how these funds are to be invested based on the investment policy adopted by the Trustees.
Currently the Town uses a professional brokerage company.
Please contact the Town Office if you are interested in volunteering for one of these positions at 446 2245 or marlowtownoffice@myfairpoint.net.
Posted: Monday, August 17, 2015 12:00 pm
By Meghan Foley Sentinel Staff
MARLOW - Local lore has it that sometime around the 1840s an elephant and her trainer came to town. The elephant's name was Lady Betsey, and she came all the way from Calcutta, India. But where Lady Betsey went after her rumored visit to Marlow remains a mystery including whether she left the town at all...
read more...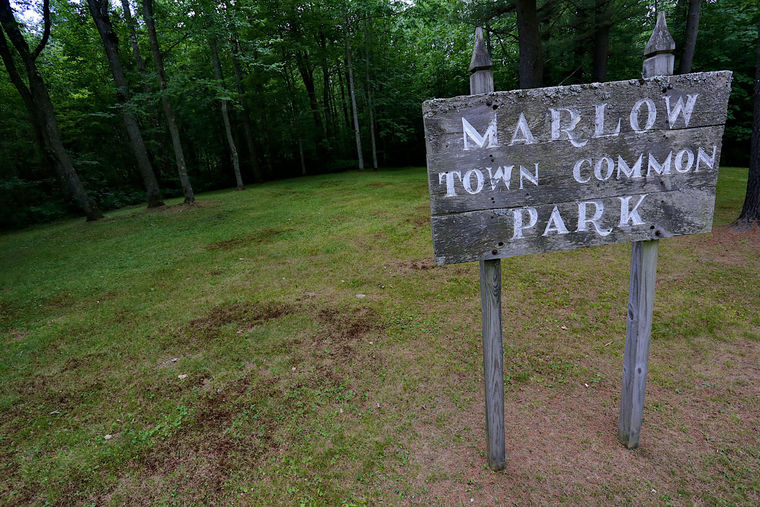 Bill Gnade / Sentinel Staff
This town, a largely undisturbed agricultural community on the
northern border of Cheshire County, is the prototype of a Yankee rural village.It was granted in 1753 under the name Addison, in honor of Joseph Addison, British essayist and poet, and Secretary of State for England, who signed the appointment papers making John Wentworth Lieutenant Governor of New Hampshire under the jurisdiction of Massachusetts in 1717.

Although there are persistent rumors that Marlow is named for the English poet, Christopher Marlowe, it seems more likely that, like many New England towns, Marlow is named after a place and the name "Marlow" recalls Marlowe, England. Perhaps some of our early settlers came from that region.

A New Hampshire source supports this view: New Hampshire: A History, Resources, Attractions, and Its People volume 1 by Hobart Pillsbury. He wrote, "It was re-granted in 1761 to William Noyes and others and named Marlow after an English town" (Pillsbury, p 234). Genealogical research on the origins of Marlow's settlers might shed light on the issue.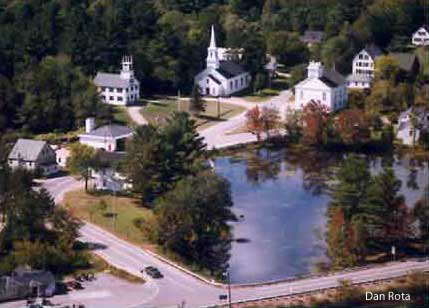 The picturesque village center, with its white church, Odd Fellows Hall, Town Hall and lily pond is one of the region's most photographed scenes and often the subject of an artist's brush. Marlow is the site of many marks of glacial action, and minerals are still found here. A woodworking industry once used the water power of the Ashuelot River to produce tools, furniture and wooden buckets from lumber cut nearby.