On the ground floor of Jones Hall - Entrance on Church Street side of building - Located in scenic downtown Marlow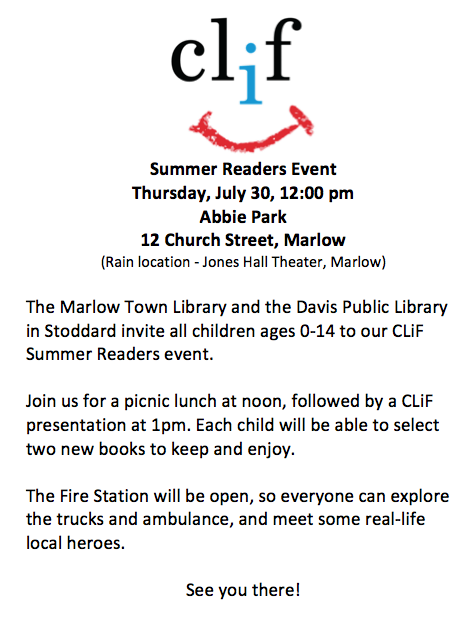 3/14/13
The Marlow Town Library has joined the New Hampshire Downloadable Books Consortium

The Marlow Town Library has joined the New Hampshire Downloadable Books Consortium, a collection of thousands of titles of ebooks and audio books. These titles are downloadable on any computer. It is free of charge for all Marlow Town Library patrons. Simply follow the link to the website, select Marlow Town Library and sign in. Your user name is your Library patron number, your pin is your last name. Can't remember your number, or don't have one? No problem, stop in and we'll sign you up! Happy Reading (listening).
http://nh.lib.overdrive.com
12 Church Street
Marlow, NH 03456
Phone: 603/446-3466
Librarian - Jennifer Brown
Library Hours
Monday: 10am - 12pm / 1pm - 5pm / 6pm - 8pm
Wednesday: 4pm - 8pm
Saturday: 10am - 12pm
Marlow Town Library Tech Tuesday
Tuesday, July 14, 6-8 pm

Tristan will be on hand to answer your basic computer/tech questions.
Click on a thumbnail to see the album

Thank you Pat Strickland for 30 years of service to the people of Marlow as their librarian.
Happy retirement.